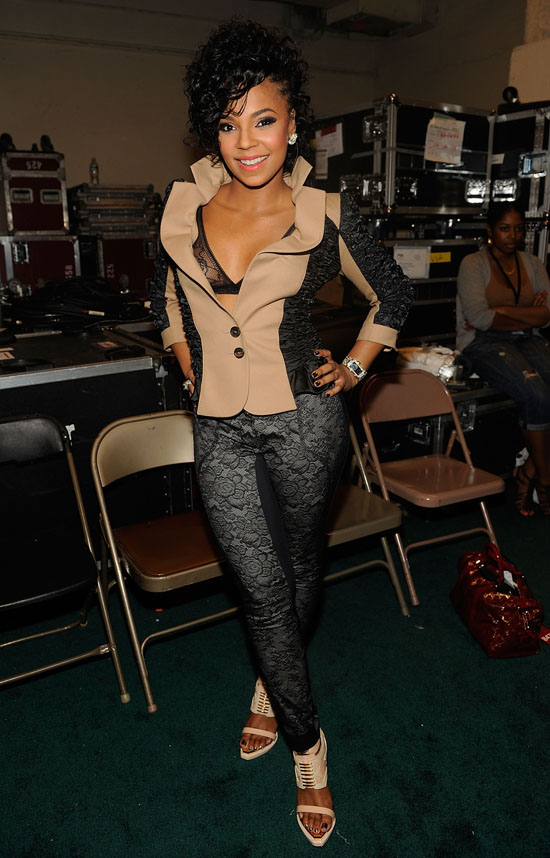 Ashanti sure is looking good these days! It's hard to believe Nelly let all of that go. She and Ja Rule reunited on stage at the 2009 VH1 Hip Hop Honors Wednesday night (Sep 23), which saw performances from Wale, Kid Rock, Method Man & Redman, Eminem and more. The ceremony honored the pioneers of Def Jam along with the people, past and present, who helped create the label and build it into what it is today. Hosted by comedian Tracy Morgan, the show is set to make its television debut only on VH1 on Tuesday, October 13th at 9 pm.
It's only right that the first Def Jam artist to be honored was the label's foundation and face for so many years, LL Cool J. The Roots started it off with "Rock the Bells." Black Thought ripped the first verse of the record, then gave way for a special guest: Eminem. Last year, Slim Shady publicly expressed his love for LL during a phone prank on DJ Tony Touch's Shade 45 radio show. Spitting the second verse of "Rock the Bells" on Wednesday night, Em sounded almost exactly like the legend who inspired him. "Now I'm worldwide known/ Whether you like it or not/ My one-man band is Cut Creator…/ When he's on the fader/ What's my DJ's name?" "Cut Creator!" The crowd yelled. Later, Kid Rock paid tribute to LL with "I'm Bad." The Kid also DJed during the show, as did Ed Lover.
The second performance was from one of Def Jam's signature groups, Public Enemy. Chuck D was immediately electrifying with the opening words for "Rebel Without a Pause": "Yes, the rhythm, the rebel." Chuck still has one of the most recognizable and commanding voices in all of music, not just rap. Flavor Flav came out wearing a white tuxedo jacket, matching top hat and a black bow tie. PE arguably had the performance of the night with help from the Roots, S1W and Boots Riley. The Long Island-bred rap chiefs were just born for the stage. The entire crowd was on their feet cheering. After their performance, Flav was seen talking to Nation of Islam leader Louis Farrakhan in the audience.

Another bricklaying squad for the house that Russell and Rick built was, undoubtedly, the Beastie Boys. KRS-One, Wale and the Gym Class Heroes did a rocking rendition of "No Sleep Till Brooklyn." Travis McCoy, who wore a black T-shirt with the names "DJ AM" and "Roc Raida" in the shape of the Run-DMC logo, took on the first verse. The Blastmaster, who is a former HHH honoree himself, took verse two and ended by saying, "Adam, get well soon," referring to Adam Yauch, who is currently battling cancer. Wale finished off the song and later paid tribute to Kanye West, wearing a backpack and rapping "Touch the Sky."

When Onyx performed "Slam" it felt like the group had stepped out of a time capsule: They looked almost exactly the same and still had that insane energy that made them famous. During his verse, Sticky Fingaz climbed on top of a large speaker. Rather than climb down when he finished, Stick climbed into the balcony. Other performers included Rick Ross, Fabolous, Foxy Brown, Redman, Method Man, Mary J. Blige, EPMD, Ghostface Killah, Chrissette Michele, Warren G, Trey Songz, the reunion of Ashanti and Ja Rule, Ludacris and DMX — many of whom teamed up with the Roots for a show-closing medley of Def Jam hits.

Offstage, Ja Rule and DMX had their own reunion. The two came up together as close friends and later turned to bitter enemies, even dissing each other on records. As X was walking out, Ja was returning to his seat, and the pair saw each other, hugged and talked for a few moments.

SOURCE
Be the first to receive breaking news alerts and more stories like this by subscribing to our mailing list.