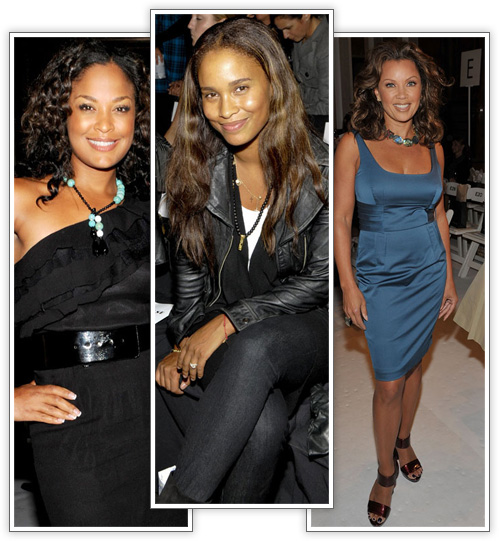 Professional female boxer Laila Ali and actresses Joy Bryant and Vanessa Williams all attended NYFW 2009's "See Now, Wear Now" Runway Show, hosted by fashion designer Ann Taylor, Thursday (Sep 17) at the Celeste Bartos Forum in the New York Public Library in New York City.
Joy Bryant, star of the upcoming NBC series "Parenthood," posted to her Essence blog last week her disdain for the use of leashes on young children. She says parents should teach their children to keep close to them instead of resorting to the use of a method of dog/animal control.
leash (noun): a chain, strap, etc., for controlling or leading a dog or animal

Yesterday, I was parked in front of a strip mall restaurant and noticed a man holding a leash. The man was standing near a pillar, so I couldn't see what was on the other end. Understand, I am a huge dog lover. So, I couldn't wait to see what kind of doggie the man had. Was it a little hot dog, or a big mastiff? A puggle or a pit? Eventually, the man walked near my car. My jaw dropped.

"Hey!" I said to myself. "That ain't a dog, that's a little boy!" A two-year-old, little boy. What the ????
The man was leading the child around as if he watched way too many episodes of "The Dog Whisperer." I mean, Ceasar Milan would have been proud—if it was a dog! What is up with this whole child harness/leash thing? I realize that it's easy for me to think that it's weird since I don't have kids. Perhaps I just don't understand how hard it is to be a parent; to have to run after your child and make sure they're safe. But, to be perfectly honest, it freaks me out every time I see a child attached to one of those things. When did we make the leap from simple hand holding to using dog sled equipment?

When I got home, I went online to investigate. I wanted to find information about the pros and cons of harness/leash/tether from parents out there. Here's the lowdown. Some were straight out against using them, while others felt that it was very necessary, and even helpful. Many of the pro-leash parents said that it helped with keeping an eye on their special needs kids or their "wild" child. Some even suggested that if they didn't have a leash their kid would "just run off."

Wow…just run off? I wish I would have "just run off" from my grandmother who raised me in the Bronx. Ah, yeah. My ability to run would have been greatly impaired. Seriously, living on a leash is not how nature intended.
Be the first to receive breaking news alerts and more stories like this by subscribing to our mailing list.