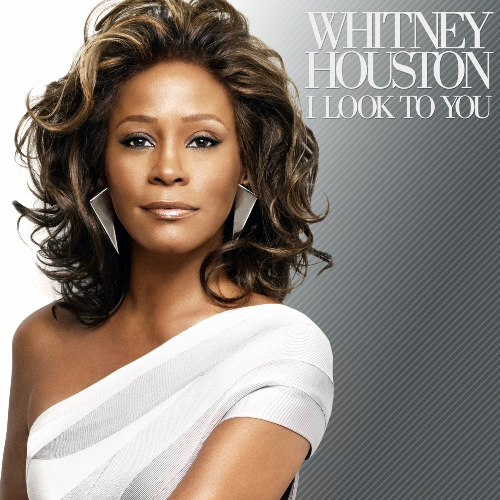 The diva is back! Whitney Houston released her sixth studio album I Look To You today showing the world that she's still got it. I Look To You is Whitney's first album in almost seven years and it features production from Akon, Swizz Beats, Danja, etc.
Ranked as the fourth best-selling female artist in the US, Whitney's career took a turn when she turned to drugs during the late 90s and early 2000s. With her suddenly becoming missing in action for interviews and performances, being fired from the Academy Awards, and losing many pounds due to drugs and stress, the legend that was once known for her amazing and powerful vocals became an object for negative criticism. When asked about her drug use in an interview with Diane Sawyer in 2002, Whitney dismissed the rumors, claiming that "crack is whack," a line that would later become infamous.
But after years and years of controversy, Clive Davis announced in March 2007 that Houston would be heading back into the studio to work on a new studio project. The product of these sessions became I Look To You. I have listened to the album a couple times and below is my track my track review!
Million Dollar Bill: Whitney knows how to start an album. The beginning of the Alicia Keys penned track starts off with Whitney singing "Oooh…" before going into the groovy feel good dance track. Swizz really did his thing on this song. It will have you moving within the first few lines and Whitney sounds amazing on it. Even without having any high notes to reach, you will notice that the voice is still there. (4/5)
Nothin' But Love: Whitney lets her haters know that she has "nothin' but love" for them on this song. The mid-tempo track will make you bop your head while still allowing you to feel the message behind the lyrics. Not surprisingly, Whitney sounds good even without trying and I love when she breaks it down on the bridge then goes on to hold on to a note, proving that she hasn't lost it just yet. Definitely an inspirational track but also a feel good one! (3.5/5)
Call You Tonight: A very nice track. The production is on point and Whitney only adds to the smoothness of it. Vocals are stable but the ending is a bit overdone. Not the best record on the album bu definitely a good one! (3.5/5)
I Look To You: One of Whitney's first singles and also the first ballad on the album. I wasn't sure how I felt about this track when it first surfaced. Once I listened to the lyrics and the emotion behind the voice, I grew to like it and it fits perfectly with the album. I Love everything about the song – the piano and simple yet powerful production, the voice, the lyrics … everything. (4/5)
Like I Never Left: Before I talk about the actual song, I must ask…whydoes Akon feel the need to say "Konvict" and "Akon" on every track he produces or is on? I was feeling the starting melody before he threw me off. But besides this, it's a nice track but it sounds like a filler. It's not bad as fillers sometimes are but I'm not feeling it like the previous tracks. (3/5)
A Song For You: This song starts off slow then progresses into a dance track. The beat is nice but the song doesn't really do much for me. I found myself a bit disinterested after a while. It's radio friendly but then again, that's not necessarily a good thing. (3/5)
I Didn't Know My Own Strength: I loved this song from the time it leaked. It's really inspirational and it's Whitney singing about her own trials and tribulations. Whenever an artist does that on a song, the listener ends up connecting with the it, and that notion definitely falls true for this song. The CD version of the track is a bit different from the leaked version. Towards the ending, there is no choir singing along with Whitney. I prefer the early version with the choir – it adds a lot more to the song. (3.5/5)
Worth It: The song opens saying "This is for the lovers…" and she repeats it through the song. Very nice R&B love song. It's not love-making music like Whitney sings but I can see couples getting down to this. (3.7/5)
For The Lovers: I can see this track being a hit though it isn't that great. It isn't bad either but it's obvious it's a track made for the radio. The production is nice and it's also nice hearing Whitney broadening her style. If this is released as a single, I see it doing very well. (3.5/5)
I Got You: Can't decide how I feel about this track. At times it sounds like a filler but then at other parts (mostly the chorus), I actually like the track. With this song, you either like it or you don't. I'm leaning towards the latter. (3/5)
Salute: One of the better tracks on the album. Say what you want about R. Kelly, but he knows how to write a hit! The production by Tricky Stewart is on point as well, and Whitney sounds great on it.  The best line from the song would have to be "don't call it a comeback, I been here for years; through all the drama and the pain and all the tears." The song is definitely a reflection of Whitney and all she's been through. A really good way to end the album. (4.5/5)
Whitney came, she saw, and she conquered. I don't have a doubt in my mind that this album will do well on the charts because it has a nicely arranged collection of the necessary feel good tracks, the ballads, and the mid-tempos. The opening and closing tracks of the album are placed properly. Unlike many albums, this one doesn't have many fillers or tracks to just skip through.
But like any other album, I Look To You does have its flaws. The album feels very safe but to be honest, it doesn't stop it from being a good record. Since this is Whitney's "comeback," I kind of understand why she took the safe route. With what is the biggest comeback this year so far, no huge risks should be taken. They provided Whitney with tracks they knew she could sing well and would appeal to audiences. Once she is fully back into the music field, I think we will hear more of the old Whitney and a greater variety of music from her.
And lastly, but probably what most people are looking forward to hearing about, Whitney's voice. No, she does not belt and sound like she did when she sang "I Will Always Love You." Nor is there a track on here as classic as that song. But, Whitney does sound good! She still has her voice and even though it may not be "the voice," it's good enough to get her to the top and blow other artists away. With I Look To You, Whitney has proven that through all her trials, nothing can stop her.
With my calculations, the album gets a 3.6/5 but as a collective whole, I give the album a very solid B+. I Look To You is in stores now!
By: Kenni Nwajagu
Contributing Editor for Gossip On This
Follow me on Twitter for album updates and more. And keep reading GOT for more album reviews. Feel free to e-mail me at kenni@gossiponthis.com (or contact me via Twitter) if there are any reviews you'd like me to do.
Be the first to receive breaking news alerts and more stories like this by subscribing to our mailing list.