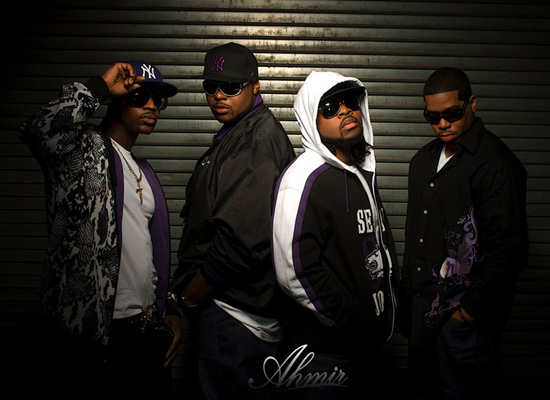 As some of you may know, earlier this week, we announced a new feature we would be doing every other week called YouTube Friday. The point of this new addition to the site is to find talented up and coming artists on YouTube that have yet to receive the recognition they deserve.
If you haven't heard of this group, I guarantee you will head to their page after hearing the songs below. The group is called AHMIR and they are probably one of the most talented male groups I have ever heard. Influenced by the likes of Prince, Usher, Boyz II Men, Michael Jackson, and many more, AHMIR brings back the old school R&B and Soul that artists today's "R&B" singers have noticeably been missing. The group consists of Sing-Sing (23 from Philly), Big Mike (25 from Harlem), Mr. Jones (27 from Boston), and KC (26 from Rochester).
AHMIR's smooth vocals and flawless harmonies have been compared to the likes of Jagged Edge, Shai, Boyz II Men, and K-Ci & JoJo and are much needed in today's industry; an industry that is plagued with very little talent. AHMIR is currently unsigned to a major label (though they are in talks with some) but that didn't stop them from releasing their debut album, The Gift. Their first single peaked at #82 on the Billboard Hot R&B/Hip Hop songs and became the #19 Top Selling R&B Hip Hop Single.
They have been donned the title of "#1 R&B Group on YouTube", have gone on tour in Europe, appeared in Billboard magazine, won 106 & Park's R&B group competition, and the list goes on.  AHMIR is a force to be reckoned with and I think I speak for all of GOT when I say we cannot wait until they dorp their first single as a signed artist.
THE CLIMB (MILEY CYRUS)
HALO (BEYONCE)
TAKE A BOW (RIHANNA) PARODY
GOT: How did the group AHMIR form and what does the name mean?
AHMIR: Several years ago, Mr. Jones and Big Mike formed a friendship in Boston based on mutual respect for one another's talents. Big Mike made his way to Boston by attending Boston University. Before long Mr. Jones and Big Mike shared a vision of forming a male R&B group. Shortly thereafter, they found KC through auditions and fell in love with his falsetto voice. Sing-Sing was scouted by Big Mike at a show at Berklee College of Music where he was a student. He amazed Big Mike by his performance and Big Mike knew he was the missing piece to the group and brought him in. And the rest is history.
"AHMIR" means "prince" in Arabic
GOT: What made the group decide to record and release an album without the support of a label? Were you happy with the decision and how it performed?
AHMIR: Well, we didn't really have a choice. No label was interested in us enough at the time (but that has changed now). We knew we had the resources and know-how to put it together professionally so we just did it.  We've learned that in this industry you sometimes can't wait on someone else to do things for you, so we took matters into our own hands and created an amazing album that has sold thousands! We were VERY happy with everything! The album was really a great representation of our music and we got to put in everything we wanted and our fans LOVED it.
GOT: Did you work with any professional writers and/or producers for The Gift? If so, who were they?
AHMIR: All of the songs on the album were written by us. As far as producers, we used all up and coming talented producers who were rising talents just like us. Regardless, the quality of our album was right up there with the best of any major label professional artist!
GOT: What was AHMIR's first move in the music industry?
AHMIR: AHMIR's first major move in the industry was when our single "Welcome To My Party" hit the Billboard charts a few years ago. As an unsigned act with no major budget, that was an amazing feat which really put us on the map!
GOT: Being the #1 Most Popular Group on YouTube, have any labels tried to get in touch with you? It's kind of hard to believe that the group isn't signed.
AHMIR: YES, YouTube has been a great catalyst in growing our name, gaining new fans and being discovered by the major labels. We've had meetings with 3 major labels in just the past 6 months.
GOT: Have you heard back from any of the writers or original singers of the covers you have on YouTube?
AHMIR: YES! We actually just heard from the writer of Miley Cyrus' "The Climb." He called our manager! And although they haven't contacted us, we heard that Rihanna and Mariah Carey have seen our covers of their songs too.
GOT: If you could collaborate with one male artist and one female artist, who would they be and why?
AHMIR: Michael Jackson – He was simply the greatest entertainer that ever lived. He performed and sang with unrivaled passion and excitement.
Beyonce – She's such a classy artist with amazing vocals.  We love her international and cross-genre appeal. It would be such an honor to do a duet with her. We covered two of her songs on YouTube: "Halo" and "If I Were A Boy".
Final word from AHMIR: THANK YOU Kenni and GossipOnThis! We truly appreciate the support and look forward to great things from y'all! Stay in touch and be sure to keep checking on us.
By: Kenni Nwajagu
Contributing Editor for Gossip On This
Make sure to check to check out AHMIR's YouTube page and their Twitter. Also, click here to download free MP3s from the group
GOT readers:
we are asking for your help! If you are subscribed to or know of an artist or group on YouTube that you think everyone should hear about (even if it's you), let us know! Our only requirement is that they are unsigned. From there, we will follow up on your request and get in contact with them. You can send me an e-mail at
kenni@gossiponthis.com
or hit me up on twitter:
twitter.com/kenni329
. We want to continue this feature for a long time but we will need your help. Thanks!
Be the first to receive breaking news alerts and more stories like this by subscribing to our mailing list.