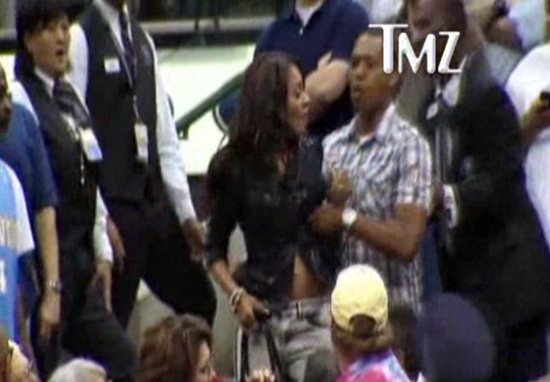 MTV personality Lala Vazquez had to let some Dallas Maverick fans what was up Monday night (May 11th) in Dallas at the American Airlines Center, which caused her to be subsequently ejected from the game (video). In the video you can clearly see she's pissed off at someone and when security or whoever tried to escort her out, she was yelling, "get the f*ck off of me!" and she turned around and threw something at someoby.
Well she reached out and released a statement about the incident, saying that she and her son were verbally attacked and heckled by adjacent Dallas fans, who she says also went as far as throwing ice at them and yelling racial slurs. She said she sent her home and was ready to leave herself when security decided they wanted to "escort her out" making a scene.
"Obviously the play-off games bring out the best and the worst in fans but what happened on Monday night with the racial slurs/threats, verbal attacks on my son and physical attacks to myself by irate fans was unacceptable," LaLa said in the statement. "The fans were totally out of control. What the cameras captured was me defending myself and didn't show the abuse that was taking place."
Be the first to receive breaking news alerts and more stories like this by subscribing to our mailing list.