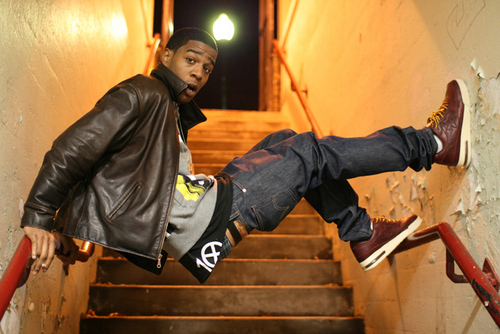 KiD CuDi, whose debut single "Day N Nite" has been burning up the charts and killing radio, plans on calling it quits after he releases his debut album this summer. In an entry on the up and coming rapper's personal blog, he cites pressure in the industry and being overwhelmed as the key reasons to his early exit from the music scene. He plans on pursuing his career in acting, starting out with an HBO show, which begins shooting this August. Continue reading to peep the entire entry from his blog.
AFTER THE RELEASE OF MY FIRST LP THIS SUMMER, IAM NOT MAKING ANY MORE SOLO ALBUMS. IAM FALLIN BACK ON BEING A ARTIST. THE DRAMA THAT COMES WITH IT IS MORE OVERWHELMING THAN THE SHIT I WAS DEALING WIT WHEN I WAS PISS POOR BROKE. MY FRIENDS GET MAD AT ME, SAY IVE CHANGED, ONE OF THE ONLY HOMIES I GOT IN THIS GAME, WALE, IS WORRIED ABOUT ME CUZ OF SHIT HE HEARS. LIKE WTF? WHO CAN SAY IM BEIN HOLLYWOOD? IM NOT AROUND ANYONE BUT PLAIN PAT AND EMILE. WHO CAN SAY THAT SHIT? MUTHAFUCKAS TALKIN SHIT HERE AND THERE, SPREADIN RUMORS, MAKIN JOKES, TRYNA JUDGE ME, AND FOR WHAT? DOES MY MUSIC POKE FUN AT OTHERS? DO I TALK SHIT ABOUT PEOPLE N MY MUSIC? I ALREADY WENT TO HIGH SCHOOL ONCE, AND GOT EXPELLED CUZ IT WASNT FOR ME. IMA DROP OUT THIS SHIT BEFORE NIGGAZ TRY AND CRUCIFY ME.
I DONT LOOK AT IT AS QUITTING, FOR I HAVE ALREADY ACCOMPLISHED MY GOAL. I HAVE A SOLID FANBASE WHO TRUELY APPRECIATES ME AND MY MESSAGES THRU SONG, I GOT MULTIPLE BIG RECORDS, I HAVE RECIEVED WORLDWIDE CRITICAL ACCLAIM FROM THE BIGGEST TASTEMAKERS IN THE GAME, 3 FAN MADE BEST OF MIXTAPES WITHOUT EVEN RELEASING MORE THAN ONE MIXTAPE AND NOT EVEN RELEASING A ALBUM, I CAN PAY MY MOMS MORTGAGE AND HELP MY SISTER WITH MY NIECE AND HOLD MY BROTHERS DOWN WITH WUTEVER THEY NEED. THATS WUT I GOT IN THIS GAME FOR, TO ACCOMPLISH ALL THESE GOALS AND I HAVE. NO REGRETS

IM SORRY TO THE FANS, IM SO SORRY YALL. I KNO U GUYS WILL ALL HATE ME, BUT REMEMBER, IM JUS A REGULAR DUDE WHO WAS GIVEN A AMAZING GIFT, AND NOW WITH THAT AMAZING GIFT CAME MORE UNCALLED FOR PROBLEMS THAN THE AVERAGE HUMAN BEING SHOULD HAVE TO DEAL WITH.

I WILL STILL DO THE COLLAB ALBUM WITH CHIP, AND THAT WILL BE MY LAST STUDIO RECORDING.

IAM GOING TO FOCUS ALL MY ATTENTION ON THE HBO SHOW WHICH WE START SHOOTING IN AUGUST AND MY ACTING CAREER IN GENERAL…ILL CONTINUE TO DO SHOWS FOR THE REAL KID CUDI FANS, AND IM PLANNING A BIG CONCERT THIS SUMMER, JUS ME, AND I WILL PERFORM MY ENTIRE MIXTAPE FROM BEGINNING TO END AND NEW SONGS FROM MY ALBUM. ILL KEEP U GUYS UPDATED ON THAT

AGAIN, IAM SORRY, BUT ITS THE ONLY WAY TO KEEP ME FROM GOING COMPLETELY INSANE. IM TOO REAL FOR THIS HIGH SCHOOL MUSICAL SHIT. BAK TO THE MOON I GO
Be the first to receive breaking news alerts and more stories like this by subscribing to our mailing list.