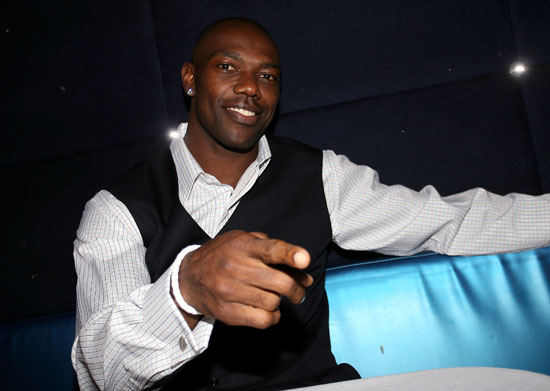 It looks like VH1, who is notoriously known for their outlandish reality shows, is giving Dallas Cowboys football star Terrell Owens his own reality series! The show is set to premiere in summer of 2009.
The series follows one of the NFL's biggest and most outspoken stars, wide receiver for the Dallas Cowboys, Terrell "T.O." Owens. In the series, T.O. will be shadowed in the off-season by his best friends and publicists Monique Jackson and Kita Williams as they battle the two sides of his large personality. Viewers will discover that behind all the braggadocio, emotional histrionics, and sculpted physique that is the outspoken media magnet known to the world as "T.O." — there is also a quiet, sensitive, mild-mannered guy from Alexander City, Alabama…that's Terrell.
"We are thrilled to bring such a great athlete, who is one of the biggest names and personalities in all the world of sports to VH1 for a surprising high octane look inside his superstar life off the field," said Jeff Olde, EVP Original Programming & Production.

Mo and Kita want to help Terrell match all the success he's had on the field with that same kind of success off the field. Now, after a string of relationships and off-the-field endeavors, Terrell is ready to re-examine his personal life and finally put a plan into action. These outspoken, vibrant women are more like T.O.'s sisters than people who work for him. They will function as matchmakers and therapists and also put their marketing expertise to use and help him make his life off of the field as successful as his life on it!

The series is executive produced by Evan Prager and Jesse Ignjatovic for Den of Thieves. Executive producers for VH1 are Jill Holmes, Alex Demyanenko, Noah Pollack and Jeff Olde.
People aren't burned out from all these damn reality shows yet?
Be the first to receive breaking news alerts and more stories like this by subscribing to our mailing list.