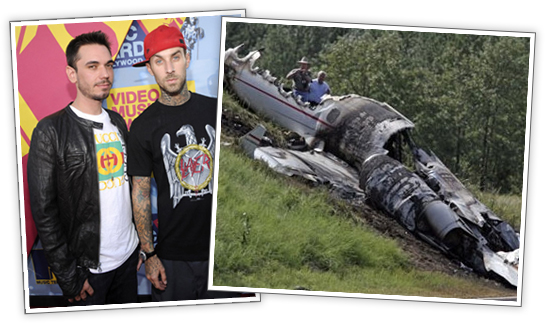 Travis Barker has filed a lawsuit against Bombardier Inc., Clay Lacy Aviation and Goodyear Tire and Rubber, blaming them collectively for the plane crash in which he and friend DJ AM survived.
Travis Barker has filed a lawsuit blaming the pilots and defective equipment for a plane crash that severely injured the rocker and DJ AM and killed four others. The L.A. Superior Court lawsuit, also filed Friday by the mother of Barker's bodyguard, Charles "Che" Still, who died in the crash, alleges the pilots "negligently decided to abort" the takeoff when the Learjet's tires failed in September at an airport in Columbia, S.C. "The pilots were either poorly trained and/or failed to follow their training," the suit says. "The pilots' decision was a breach of their duty owed to the passengers onboard and was a substantial factor in causing the crash and resultant injuries and deaths."

Pilot Sarah Lemmon, 31, and co-pilot James Bland, 52, were killed in the crash, as were Barker's assistant Chris Baker, 29, and Still, 25. The lawsuit also alleges that one or more of the tires failed, "leaving tire debris and portions of airplane components along the 8,600-foot runaway" and that the plane's landing gear, tires, wheels, brakes, reverse thrust system, and squat switches "were not airworthy." Barker, who is recovering from severe burns, is claiming the crash caused him pain and suffering, mental anguish, psychological and emotional distress, disfigurement, loss of earnings capacity and medical expenses.

Federal aviation officials are focusing on bare tires and debris on the runway as the causes of the crash. The National Transportation Safety Board says the wheels had very little rubber remaining and its brakes were severely damaged. The lawsuit names as defendants Clay Lacy Aviation, Global Executive Aviation, Inter Travel and Services, Goodyear Tire and Rubber and Bombardier Inc.

[ SOURCE ]
Be the first to receive breaking news alerts and more stories like this by subscribing to our mailing list.