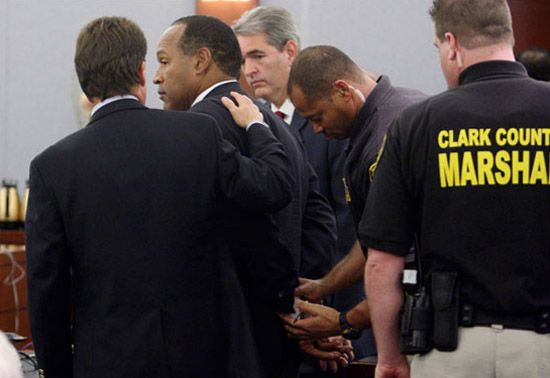 He got away with murder, but when the law caught up with him a second time, he couldn't shake it off as easily. The New York Times is reporting that a Las Vegas jury convicted O.J. Simpson of armed robbery and kidnapping late Friday night. This verdict, ironically, comes 13 years to the day after he was acquitted of killing his ex-wife and her friend in Los Angeles.
Mr. Simpson gave a heavy sigh as the verdict was announced but showed little emotion as officers led him handcuffed from the courtroom. Mr. Simpson's sister, Carmelita Durio, broke into sobs as he was led away and later fainted. Mr. Simpson's lawyer said the conviction would be appealed. Sentencing is scheduled for Dec. 5, and Mr. Simpson, 61, and his co-defendant, Clarence Stewart, 54, could spend the rest of their lives in prison. Kidnapping is punishable by five years to life, and the armed robbery conviction requires a mandatory sentence of at least two years and up to 30 years. The presence of a weapon at the scene adds years to the minimum sentences for 9 of the 12 charges, which include conspiracy to commit robbery, burglary, assault and coercion. [ READ MORE ]
Damn, karma is more of a bitch than I thought she was!
Be the first to receive breaking news alerts and more stories like this by subscribing to our mailing list.