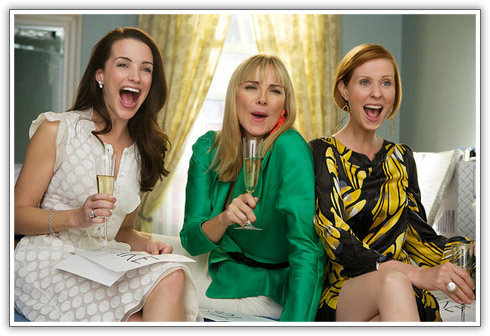 Many of you read my Sex and the City: The Movie Style Steal post and e-mailed me wanting to know where you can get different styles seen in the movie. I went through each and every post and made sure I found what each of you wanted. Enjoy!
Many of you wanted to know where you could find the studded belt Carrie wore on more than one occasion in the movie. The belt Carrie wears in the movie is a $210 Street Ahead Roger Belt. Patricia Fields ($129) and Asos ($15) both have made cheaper versions of the belt.
Veronica asked if there was a cheaper version of the Dior Gladiator Platforms but with a shorter heel. Steve Madden has released a another shoe that is similar to the Gladiator Platforms.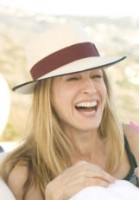 In this picture Carrie is wearing a custom made Hermes Fedora while in Mexico with the girls. Some similar versions are: Asos Straw Trilby ($12), Evelyn Straw Fedora ($20), Arden B. Straw Fedora ($28), Casablanca Fedora ($38), and The Madison Fireball Fedora ($45).
In this scene Miranda is also wearing a rosebud of the shoulder shirt a($250) as a swimsuit cover up.
Many of you also wanted to know about the Jeans Carrie wore in the movie. Well, apparently all of the Jeans worn in the movie were from Sara Jessica Parkers' new line called Bitten, most of the jeans are priced at $8.98!
For those of you who wanted to know about the over-sized turtle neck shirt Miranda wore in the movie, it was a MOOD Tunic.
In the movie Carrie is wore a Pink dress, her stud belt, and pearls. Banana Republic ($119), Target ($35), and Asos ($35) have all released cheaper versions of the pink vintage dress but, the Asos version is the only one with the back cut out like the original.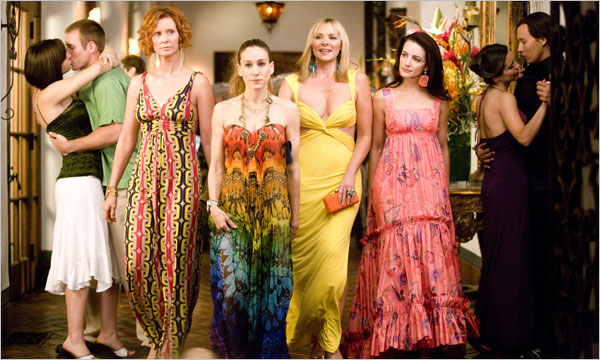 In this scene Miranda is wearing a T-Bags print V-neck Long dress ($211), Carrie is wearing a butterfly Print Alexander McQueen Dress ($3,876), BCBG ($390) has made a similar version to Samantha's Vintage Yellow Gown.
Hopefully I found what all of you were looking for. If I missed something or you need me to find anything else fell free to e-mail me at Kennesha@Think2Wice.org!
Be the first to receive breaking news alerts and more stories like this by subscribing to our mailing list.