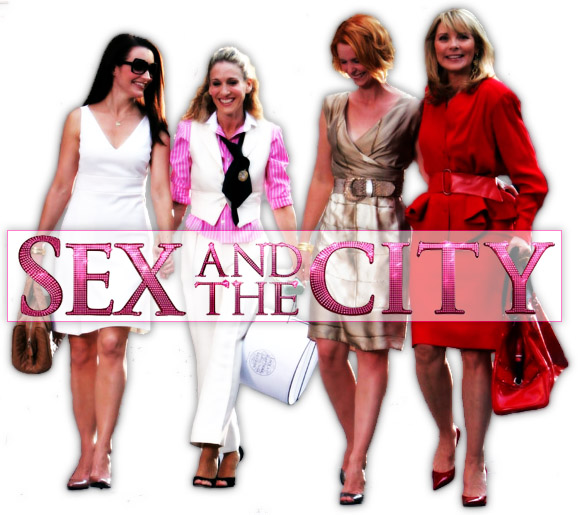 Sex and the City: The Movie made it's debut in movie theaters all across the nation Friday and while women of all ages and races hope to finally learn the answers to obvious questions like: Will Carrie and Big get married? Will Charlotte finally get pregnant? Will Samantha stay with one man and Will Miranda be happy with Steve in Brooklyn? Many just want to see the clothes, and if you are one of the many then you came to the right place! Get ready to lay your fashion addicted eyes on clothes, shoes and handbags from the movie designed by Chanel, Preada, Vera Wang, Carolina Herrera, Oscae de la Renta, Christian Lacroix, Vivienne Westwood and, of course, Manolo Blahnik.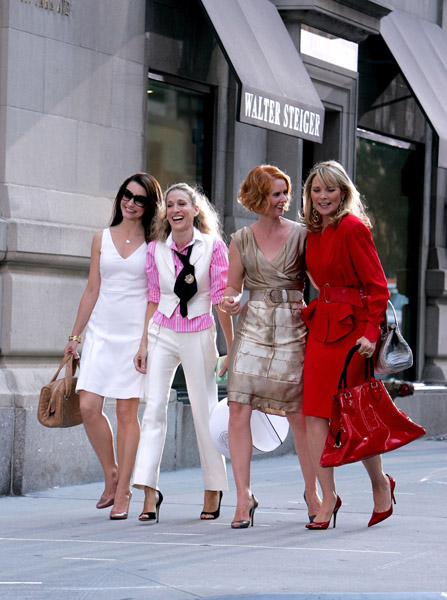 In this edition of Style Steal we have the beautiful ladies of the HBO Series Sex and the City. I will be telling you who wore what, who made it, and were you can get it.
In this scene from the movie we have Carrie, Charlotte, Samantha, and Miranda walking down the streets of Manhattan, New York. Charlotte is wearing White Prada dress with Beige Prada shoes, Burberry Studded Gem Sunglasses and a Chanel Large Quilted Satchel Handbag; Carrie is rockin a Ralph Lauren Curt Stripe Boyfriend Shirt, Ralph Lauren Dorothea Anckle Pants, Ralph Lauren Vest, Black Tie, and Black Open-Toe Manolo Blahniks Mary Janes; Miranda wears a Champagne Alberta Ferretti Dress, Carlos Falchi Python Round-Buckle Belt, with Peep-Toe Luciano Padovan Heels; and Samantha works a Red Valentino Pencil Skirt, Red Thierry Mugler jacket and Large Fendi 'Bag De Jour' tot.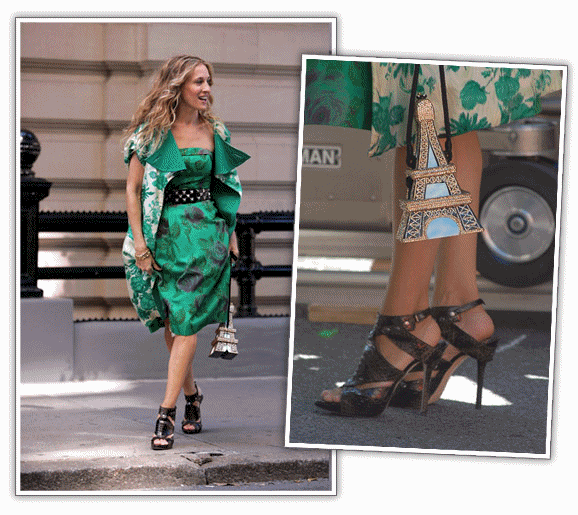 For this scene we have Sara Jessica Parker who plays Carrie Bradshow in the movie. Here Carrie is wearing a Brocade Floral Print Dress and Coat, Extreme Dior Gladiator Platforms, and an Eiffel Tower Bag by Timmy Woods. Love the shoes, but don't want to spend that much? Steve Madden has released The Madalynn, Asos Released the Leather Heavy Gladiator Sandals, and Bakers has released the Candice and the GLADYS WP. All are cheaper and similar versions of the Dior Gladiator Platforms.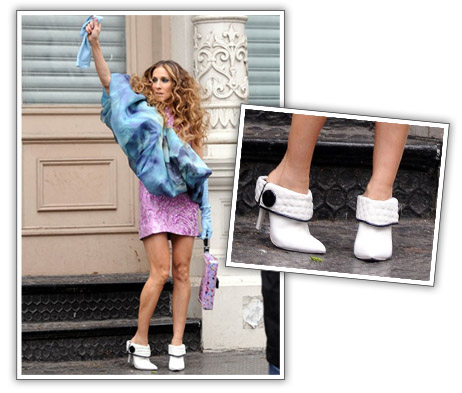 Here is another picture of Carrie wearing a fabulous pair of Cuffed White Leather Ankle Booties. Yoox.com has released the White Ankle Fornarina which is a cheaper and similar looking pair.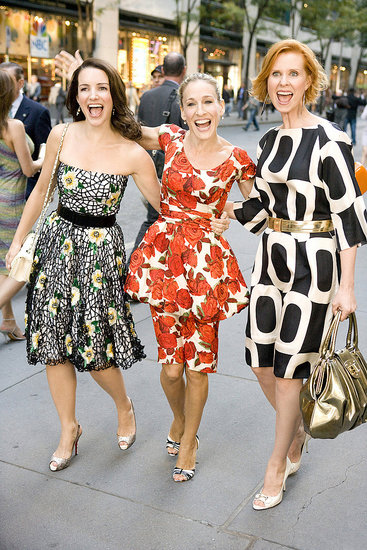 In this picture we have Carrie, Charlotte, and Miranda. Charlotte is wearing a Strapless Floral Print Salvatore Ferragamo Dress, Vintage Black Belt, Metallic Christian Louboutin Peep Toe Pumps, and a Classic Chanel Flip Handbag; Carrie is wearing a Vintage Floral Print Dress, and Zebra Print Peep-Toe Manolo Blahniks; Miranda is wearing a Maggy London Circle Print Silk Twill Dress, Gold Belt, Ivory 'Hollywood' Horsebit Pumps, and an Metallic Alexander McQueen 'Elvie' bag.
Many of you know Jennifer Hudson joined the cast of Sex and the City: The Movie as Louise from St. Louis. When Carrie asks about her fabulous Louis Vuitton Grey Denim Bowly Handbag, Louise introduces Carrie to Bag, Borrow or Steal, an online handbag and accessories borrowing site. Almost all of the hand bags from the movie can be rented from BagBorroworSteal.com.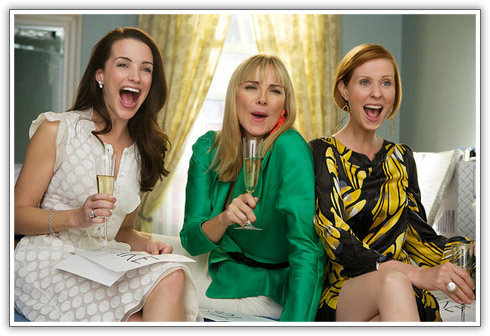 In this picture we have Charlotte, Samantha, and Miranda. Charlotte is wearing White Valentino Polka Dot Dress. Kay Urger made the White Belted Polka Dot Shirt Dress which is a similar version; Samantha is wearing another Green Thierry Mugler Jacket, Vintage Black Belt, and an Ivory Dior Pencil Skirt; Miranda is wearing a Black and Yellow Sinequanone Dress, and a beautiful Yossi Harari 24-karat Pearl Ring.
Did you see the movie? Is there an outfit from it you want me to find? Send me an E-Mail at Kennesha@Think2wice.org!
Be the first to receive breaking news alerts and more stories like this by subscribing to our mailing list.