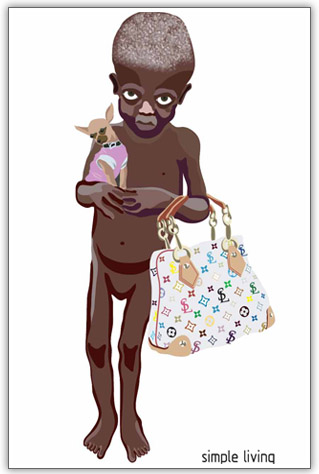 In an attempt to raise money for the organization "Divest for Darfur" and awareness of the ongoing genocide in Darfur Danish artist Nadia Plesner created this image of a young African boy holding a Louis Vuitton handbag in one hand and a small chihuahua in the other. Apparently Louis Vuitton was not too fond with the design and have responded with a lawsuit demanding $20K per day in damages for copyright infringement and for Plesner to stop producing the image on shirts and posters.
This is what Plesner had to say about her creation:
Simple Living is an idea inspired by the medias constant cover of completely meaningless things.
Since doing nothing but wearing designer bags and small ugly dogs apparently is enough to get you on a magazine cover, maybe it is worth a try for people who actually deserves and needs attention.

When we're presented with the same images in the media over and over again, we might start to believe that they're important. I felt horrified by the fact that even with the genocide and other ongoing atrocities in Darfur, Paris Hilton was the one getting all the attention. If you can't beat them, join them. This is why I have chosen to mix the cruel reality with showbiz elements in my drawing.
Although Louis Vuitton has taken legal action Nadia is refusing to stop producing the design and insist that the money being spent in lawyers could easily have been used as a donation to help the people of Durfar. If you want to support Nadia you can purchase one of her shirts HERE.
I personally this Louis Vuitton is going overboard! The design is for a good cause so why not go and sue the 100+ flea markets selling knock offs and make a donation to help the less fortunate. It really is not that serious.
What are ya'll thoughts on the subject?
Be the first to receive breaking news alerts and more stories like this by subscribing to our mailing list.