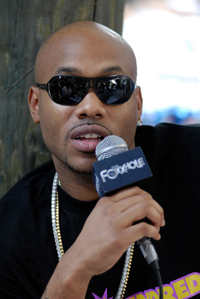 PHOTO: WIRE IMAGE
Word on the sidewalk is that R&B star and gospel music producer Mario Winans is refusing to support his 3-year-old son. A court-order states that he is required to pay $4500 per month, and he stopped paying in August 2007, which in turn caused the mother of his child to lose her home. Now she's homeless and relying on support from her friends and family while she's trying to make ends meet working as a cocktail waitress.
R&B star and gospel music producer Mario Winans — nephew of Broadway star Benjamin "BeBe" Winans — is refusing to support his 3-year-old son, his ex-lover says. Janel Bennett, who was in an eight-year relationship with Winans before she had her son, Jordan, claims she was evicted from her home in Miami because Winans won't pay child support. She told us she is "homeless and living with friends on the South Side of Chicago," where she works as a cocktail waitress. In 2005, the Miami Herald reported, "A DNA test shows a '99.99 percent probability' that Winans is the biological parent." Documents filed in a Miami-Dade, Fla., court last Jan. 2 stated, "Mario Winans is obligated to pay Janel Bennett $4,500 per month due on the first of each month as child support." Bennett told us, "He hasn't paid me. I just wanted support, and I was on disability and Medicaid and welfare just to have the baby." She said that after telling Winans she was pregnant, he disappeared from her life. Friends of Winans confirmed to Page Six that his current girlfriend, Joy — the mother of his toddler daughter, Sklyar — is known publicly as his "wife." Bennett said, "Joy lives in a 16-bedroom mansion and her daughter wears mink coats and Seven jeans, and my son doesn't have boots to wear in the winter."

She claimed Winans has only seen Jordan once, and "doesn't send Christmas cards, doesn't send him birthday cards, nothing." Bennett met Winans — who leapt to fame in 2004 with his track, "I Don't Wanna Know" — in 1997, through their mutual friend Sean "Diddy" Combs. Winans and Combs worked together at Bad Boy Records and Bennett was working on fashion consulting for Combs' label, Sean Jean. Bennett said that for a while, Winans was sending her some money, but "he stopped paying last year . . . by the end of August 2007, I lost the house and moved to Chicago . . . I just want him to do right by Jordan . . . It would be so simple for him to call me so we could work something out." Winans' reps at Czar Entertainment and his lawyers had "no comment." [ VIA PAGE SIX ]
Just a damn shame…
Be the first to receive breaking news alerts and more stories like this by subscribing to our mailing list.