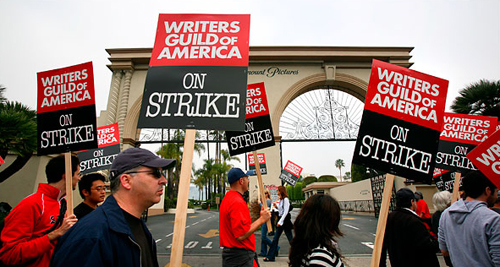 After a little over 3 months on the picket lines, striking members of the Writers' Guild of America voted approximately 93% in favor to accept a deal with producers to finally end the strike, reports People. The writers are expected to return back to their jobs as early as this week.
The agreement – which still needs to be formally ratified – removes the boycott threat that had been looming over the Feb. 24 Oscars. "I am ecstatic that the 80th Academy Awards presentation can now proceed full steam ahead," Sid Ganis, president of the Academy of Motion Picture Arts and Sciences, which organizes the ceremony, said in a statement. Under the new deal, producers agreed to give writers a piece of the profit from programs that run on the Internet. Writers also will receive an increase in residual payments for movies and TV shows downloaded online.

Thanks to the new agreement, "writers will lead the way as TV migrates to the Internet and platforms for new media are developed," said Patric M. Verrone, president of the Writers Guild of America, West. As a key concession, the Guild did give up its push to have its membership include animators and reality television workers.
According to Newsweek, the strike costed the entertainment industry approximately $3.5 billion!
Be the first to receive breaking news alerts and more stories like this by subscribing to our mailing list.