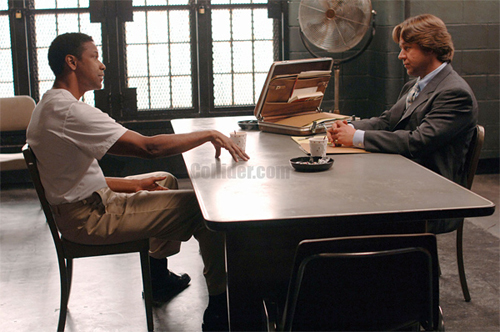 The makers behind American Gangster, the hit movie starring Denzel Washington, have been slapped with a $55 million libel suit levied by three former Drug Enforcement Administration (DEA) agents who say the film inaccurately portrayed them as criminals and diminished their role in taking down Harlem heroin dealer Frank Lucas. Former DEA agents Louis Diaz, Gregory Korniloff and Jack Toal took legal action Wednesday against NBC Universal, saying it falsely claims that the cinematic account of real life Harlem drug kingpin Frank Lucas was based on a true story, reports the Associated Press.
"American Gangster" chronicles the rise and fall of Lucas, played by Denzel Washington, and how his empire undercut the price and quality of heroin sold by the Mafia. Once he was taken down in an effort led by New Jersey Detective Richard Roberts, depicted in the film by Russell Crowe, Lucas turned informant. According to the suit filed Wednesday, the movie hurt the agents' reputations by falsely claiming in text at the end that a collaboration between Lucas and Roberts "led to the convictions of three-quarters of New York City's Drug Enforcement Agency agents between 1973 and 1985."
"With this utterly false and defamatory statement, the defendant has ruined and impugned the reputations of these honest and courageous public servants in the eyes of millions of people," said the suit, which seeks class action status.

——————–

NBC Universal, owned by General Electric, denied the allegations, saying: "American Gangster does not defame these, or any, federal agents. The end legend specifically refers to members of 'New York City's Drug Enforcement Agency' — not the federal Drug Enforcement Administration, where the plaintiffs formerly worked. We believe the lawsuit is entirely without merit." [ SOURCE ]
Now, everyone do me a favor and raise your hand if you paid attention to that at the end of the movie. Yeah, I'm sure you read it … but did you really care? My point exactly. People sue for pretty much anything these days. More power to them tough, I'm sure they have some bills that need to be paid.
Be the first to receive breaking news alerts and more stories like this by subscribing to our mailing list.