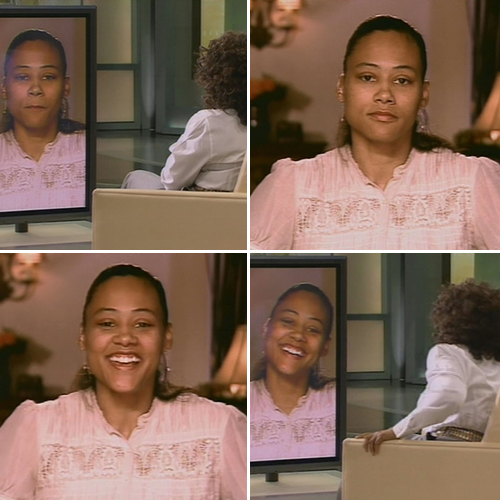 SCREENCAPS: SPLASH NEWS
Oprah gave Marion Jones her first interview since being sentenced to six months in prison for lying about her steroid use and check fraud. The disgraced athelete said that she accepts responsibility and has no regrets.
"I think that I absolutely should have to accept responsibility for breaking the law," she says on the Oprah Winfrey Show. "I have no regrets for doing what I did on October the 5th and pleading guilty and admitting to the world that I lied, that I've made mistakes. [It pales] in comparison to seeing my husband cry," she tells Winfrey, speaking on being stripped of her Olympic medals. "They [pale] in comparison to seeing my mother have to stand there in the courtroom and bawl. You know, those things to me are what mean the most."
Due to the fact that she has a 4-year-old son at home, Jones told Oprah that she is disappointed to be serving a 6-month jail sentence instead of just being on probation. She went on to say that she and her husband haven't explained the situation in its entirety to their young son, who was also upset when his mother wasn't able to drop him off at school one morning.
Jones will begin her 6-month sentence on March 11th.
Be the first to receive breaking news alerts and more stories like this by subscribing to our mailing list.