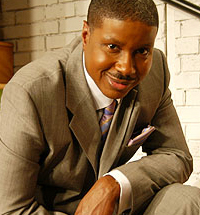 Chris Martin, also known as Play, 1/2 of rap group "Kid N Play," was hospitalized in Durham, NC after his car was hit by a man involved in a police chase. Play's SUV was struck by a man who was fleeing a crime scene, according to The News & Observer. The driver, 34-year-old Raul Riva Aldamo of Greensboro, NC, was shot by police while trying to escape and pronounced dead at the scene. The incident took place this past Saturday (December 28th) and Play was released from the hospital Wednesday.
According to police, three men broke into a house in Durham and began stealing property and subduing the residents. As two of the men exited the house, police arrived on the scene. Raul Aldamo drove at officers, striking one of the officers, who fired on the vehicle. Aldamo, mortally-wounded, managed to drive about a half a mile, when he struck an SUV driven by Play. Play and his passenger were ejected from the vehicle, while Aldamo died at the scene.
Be the first to receive breaking news alerts and more stories like this by subscribing to our mailing list.