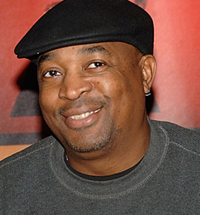 Just a week after Jay-Z's resignation as president of Def Jam, it's been reported that Chuck D of Public Enemy just might be taking his place. Chuck D said the following to All Hip Hop:
After 10 years looking on the collapsing of the record industry, and upon hearing the news of Jay-Z stepping down from Def Jam, I would throw my name into the hat of somebody who understands how the hell Universal should establish the name-brands they acquire with stockholders money. So instead of me running for politics, this is an easier run into the world of influential culture.

I'm in Los Angeles, Atlanta and New York on the regular as well as I [thoroughly understand] the international picture. There would be some seismic changes, and I would be a little Huey Long-ish at it. If folks are clueless about this parallel that's precisely the problem.
If you're interested in Chuck D's plan of attack if appointed president, follow the break!
#01. Being ahead of the technology curve; preparing for a thinned out industry; and managing budget efficient acts is very noteworthy of my resume which is simple. I told these cats the online revolution was coming and they needed big adjustments. They relied on lawyers, courts, and accountants only to now look upward at Apple, etc.

#02. Their cost factors didn't fit the times, I come from a world where the $50,000 investments resulted into 6 – 7 figures. Now it's a business where 7 figures are invested to make 6.

#03. I would run it like sports. These artists would be busting their tails on tour and on the stage to gain a fan. They would be coached on how to do their thing right. Braintrust will be high, and subcontracting to the right contributors will be comparable of the efficiency of these labels like Jazz and catalog departments. You cannot have people working, that haven't the slightest clue of what they are in the middle of.

#04. Any criminal mindedness in artistry, and management would have sit this one out, go their own way. It's like bad apples the long run ain't got nothing to do with entertainment. You can't mix the stage and off stage parodies.
Be the first to receive breaking news alerts and more stories like this by subscribing to our mailing list.