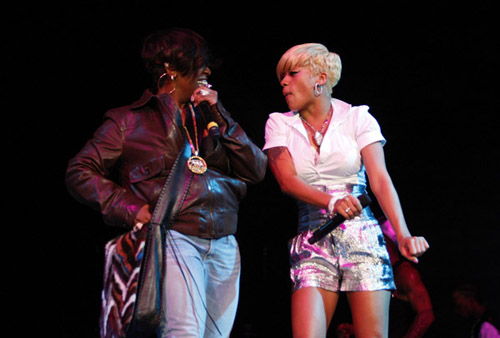 MISSY AND KEYSHIA ON STAGE AT THE "DOUBLE UP TOUR" IN ATLANTA
PHOTOS BY BEN ROSE FOR WIRE IMAGE
R Kelly's currently on tour with Keyshia Cole, Ne-Yo, and J.Holiday, and the crew touched down in Atlanta last night. I'm hearing Keyshia's giving a little trouble behind the scenes though. I was reading on Fresh's site that homegirl wasn't too happy about her dressing room arrangement (and the show line-up) at the previous show in Columbus, Georgia. She did NOT go on stage that night because she didn't wanna go BEFORE Ne-Yo! Why? Because she believes that she's bigger than he is. Wow… Lol. Style Razzi has all the info on that. But it looks like they came to some kind of agreement cause she hit the stage last night in Atlanta. If anyone went to the ATL show last night, PLEASEEEEE hit us up! I wanna know who came first … Keyshia, or Ne-Yo?? Lol!
But on the real, she needs to chill out with that. Drama on the road is not cool, especially when you have to be around these people almost all day long for a period of 2 – 4 months. Wasn't she the one causing issues a couple of years ago during Kanye's tour?? It was something between her and Fantasia if I remember correctly.
Be the first to receive breaking news alerts and more stories like this by subscribing to our mailing list.