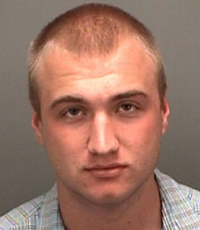 BOOKING PHOTO (VIA SPLASH NEWS)
Well, it's about damn time, I'd say! Nick Hogan and a friend were seriously injured back here in August 2007 after they were speeding along an interstate. Nick has been arrested on several criminal charges, including third-degree felony reckless driving involving serious bodily injury. Police also cited Nick for use of a motor vehicle in commission of a felony, being under the age of 21, and operating a vehicle with a breath-alcohol level of 0.02 percent or higher and illegal window tint. Hogan turned himself in to authorities at this morning, hours after police in Clearwater issued a warrant for his arrest upon the completion of an "extensive investigation" into the wreck by a team of four officers. He is currently being booked on the charges at the Pinellas County Jail.
Daniel Jacobs, the 22-year-old driver of a second car, which investigators have concluded was racing Hogan's at the time of the crash, is also being issued a summons to appear in court for reckless driving. "Nick and the entire 'Hogan' Bollea family are saddened that criminal charges have been filed in regards to the tragic single car accident on August 26, 2007," the family said in a statement. "Nick will meet and answer these charges in the appropriate arena—a court of law." Despite being a minor at the time of the accident, Hogan will be tried on the charge as an adult. Hogan's passenger, 22-year-old John Graziano, a Marine who had just completed a tour of duty in Iraq, remains hospitalized, reportedly in a coma. Graziano, who wasn't wearing a seatbelt, may have also suffered brain damage caused by swelling of his brain.
"The family's primary focus and concern still remains for the continued recovery of Nick's longtime friend John Graziano," they said. "The Bolleas will also continue to stand by the Graziano family and help them in any way they can." Hogan himself sustained minor injuries from the smashup, including a broken arm and ribs along with neck and knee injuries. He was treated and released from the hospital the morning after the accident. The crash took place when Hogan's yellow Toyota Supra sports car careened off a four-lane highway in downtown Clearwater, crashing into a 25-foot-tall palm tree. Investigators determined that Hogan was driving above 60 mph in the 40-mph zone, and also said that wet roads may have contributed to the magnitude of the crash. The Hogan family acknowledges that the recent rainfall made for particularly dangerous driving conditions, but denies that the accident was triggered by excessive speeds, despite police evidence to the contrary.
"There has been much speculation as to the wet road conditions surrounding this accident. Although the evidence has not been evaluated, preliminary reports from the experts indicate that this was not, in fact, a high-speed accident." While the Hogans hope Nick will be cleared, they are eager to make something positive of the tragedy, using the event to educate others on the importance of vehicle safety. "The tragedy to both families is compounded by the fact that unfortunately John was not wearing his seatbelt. Thankfully, Nick was wearing his. Because of what happened to John, the entire Bollea family will make it a priority to increase public awareness about the importance of always wearing your seatbelt."
Be the first to receive breaking news alerts and more stories like this by subscribing to our mailing list.