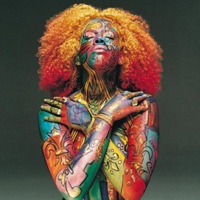 KALEIDOSCOPE (1999)
Kelis Rogers-Jones, best known for the smash hit "Milkshake" from her Platinum-selling album Tasty in 2003, has been dropped from her U.S. label Jive Records recently. The apparent reason for this was cited to the poor lack in units pushed for the singer's 2006 album Kelis Was Here, which barely went Gold, thus failing to make an impression on the charts.
First, former NSyncer JC Chasez decided to part ways with Jive Records, and now, EW has learned, Kelis has been dropped from the label that's home to Britney Spears, Justin Timberlake, and R. Kelly. The R&B singer's 2003 album, Tasty, yielded the massive hit "Milkshake," and was certified gold, but Kelis' most recent effort, 2006's Kelis Was Here, had less success in the U.S.—despite plenty of guest spots, including a collaboration with her husband, Nas. Kelis was originally signed to Pharrell Williams's Star Tracks, which had a distribution deal in place with Virgin, which was later moved to Arista and, through the SonyBMG merger, she ended up with Jive. "It was a case of being in the ever-shrinking world of the record industry and finding herself on a label she wasn't signed to and without a champion," says Kelis' manager, Jeff Rabhan. "She's a different kind of artist — very image and style-driven. It's either something you get or you don't."

Kelis has been working on an indie dance record with Cee-Lo. A full-on pop effort with Guy Chambers (Robbie Williams) will be shopped around soon. "We're not opposed to another major label deal, but it would have to be non-traditional," adds Rabhan. Kelis is also in talks to host a Project Runway-like show on VH1 and is auditioning for numerous TV and film roles. [ SOURCE ]
Well, maybe, just maybe if Jive promoted their artists a little better (because they have some good artists) it would not result to this but Kelis didn't need them anyway. The reason why I put that 1999 album cover of Kaleidoscope up is becos that is possibly my most favorite album from Kelis. I still bump tracks 1-14 every now and then, and if you notice, that's the whole album. Becos I thought it was simply a masterpiece, stark brilliance really, I was too young when she came out but I started learning about her in like 2005. She truly is an ARTist and I wish her well. It is so sad to see all that talent go to waste! She needs a label that will grant her COMPLETE creative control like M.I.A.
Be the first to receive breaking news alerts and more stories like this by subscribing to our mailing list.