PHOTO: WIRE IMAGE
DIDDY MIGHT HAVE TO PAY UP SOME SERIOIUS $$$ » Sean "Diddy" Combs has been hit with a lawsuit from a former associate who claims the mogul owes him more than $19 million for music by the late rapper Notorious B.I.G. According to the Associated Press, James Sabatino, a former consultant for Diddy's Bad Boy Entertainment Inc., says he flew B.I.G. to Miami in 1994 to perform at a concert and record some music. Sabatino says the rapper recorded about 17 minutes of vocals, and the session was also captured on about 90 minutes of video footage. Although a contract was never signed, Sabatino says there was an understanding that he owned Biggie's tracks as well as the video footage because he purchased both the rapper's flight and studio session, the lawsuit states.
Diddy gave Sabatino a check for $25,000 and promised the rest of the money would follow in 60 days, according to the lawsuit. Sabatino was later incarcerated on unrelated charges but still tried to collect the balance of his fee from Diddy. He was repeatedly told it was coming soon, according to the lawsuit, which seeks both actual and punitive damages. Sabatino says in the filing that he felt pressured not to talk about the dispute because Diddy had been questioned by police about the rapper's death. The mogul apparently told police he did not feel Sabatino was involved in the slaying, but Sabatino says he feared Diddy would change his story and implicate him even if it was not true, reports AP.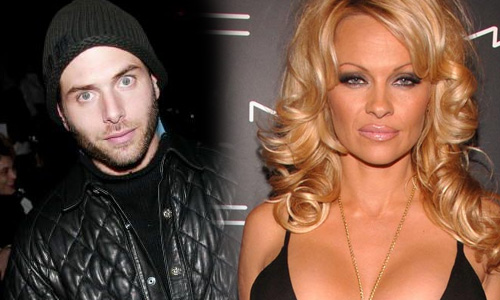 TWO SEX-TAPE STARS GOT HITCHED IN VEGAS » Over the weekend, Pamela Anderson Lee married some guy in Vegas named "Rick Salomon," who is apparently the ex-boyfriend of former jailbird and socialite Paris Hilton. Ironically, this is the THIRD MARRIAGE for the both of them, and they both have starred in their own sex tapes. Heaven help us all. I wonder how long this sham of a marriage will last!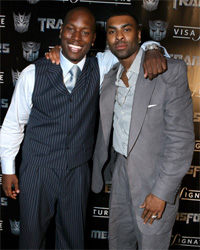 THE T & G OF TGT BACK IN JUNE // PHOTO: WIRE IMAGE
DAMN G, THEY GOT YOU HOMIE! » Ginuwine, who also goes by the ridiculously funny name, "Elgin Lumpkin" has filed a lawsuit against a company who duped him into signing a "recording contract" with a label that … DOES NOT EXIST! Mr. Lumpkin says he was persuaded to sign a contract, which he later learned was fake, on May 8, 2007, with King Music Group Inc., a company that a personal acquaintance, Michael Bourne of Memphis, Tennessee, said he owned. Terms of the contract gave Ginuwine $1.75 million to record his first album with King, including a $500,000 advance, according to the lawsuit filed in Manhattan's state Supreme Court. t's been five months, and the singer has yet to make any records and hasn't been paid a cent, the singer claims.
The lawsuit, which seeks $4 million in damages, accuses King Music and Bourne of breach of contract, fraud and negligent misrepresentation. Ginuwine's lawyer, Corey D. Boddie, said his client is now unable to record anywhere else because he could be sued if he made records for another company while under contract to King. In addition, Boddie said he has been unable to contact Bourne. — Hold on, hold on. Let me take all of this in. If the contract was fake in the first place, how the hell can he get sued for recording an album with a reputable company? Somebody help me out here, it just doesn't make sense! "King Music Group Inc." DOES NOT EXIST! Lol. And I'm guessing that whole TGT thing didn't work out … right? Anyhow, I would've loved to see home boy's mug when he found out he signed a fake contract!!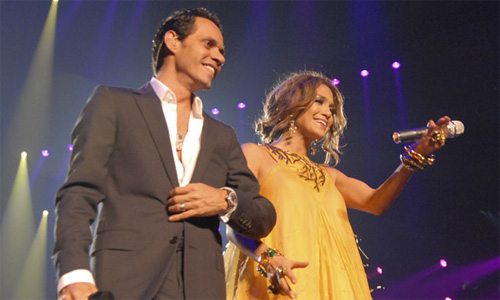 MARC & JENNIFER AT THEIR SHOW LAST NIGHT // PHOTO: WIRE IMAGE
JUST GIVE IT UP ALREADY JENNY! Even though Jennifer Lopez, who is currently on tour with her husband Marc Anthony, hasn't officially said that she is preggers, a fan who went to her show last night, who sat in the front row says that she is "definitely pregnant." Despite reports of J.Lo using last night's show as an opportunity to proclaim her pregnancy, she continued to keep it on the down-low. Why? I'm not too sure. "I'm very disappointed," said Jessica Polter, 21, of Staten Island. "I wanted her to say something. But I was in the first row, and I can tell you she's definitely pregnant." Just give it up already, we all know your pregnant. It's like that overly flamboyant dude in high school who finally "comes out" the day before graduation. Uhm, right … we already knew you were gay … since elementary school. Nothing new! LOL.
Be the first to receive breaking news alerts and more stories like this by subscribing to our mailing list.