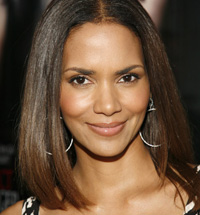 Halle Berry hopes her decision to shave off her hair for an upcoming movie role changes the way women feel about their locks. The actress will hack off her long tresses in a scene in new film Nappily Ever After – and she thinks her bald choice may inspire others to stop obsessing about their hair. Berry admits Britney Spears' shock decision to shave her head in February has given her the courage to follow suit.
She says, "I would love to talk to her and find out, 'How liberating has it been?' because I really believe that, as women, we are so defined by our hair. I know that if I'm having a bad hair day, I won't leave the house some days. I just can't even face the world if my hair is too jacked up."
Nooo!!! Halle Berry do not do this to yourself! Use one of those nifty bald caps or something! Does anyone wanna join me in a hunger strike?! I promise I won't cop out after 16 days! I need a videographer .. stat! Oh well, I guess there's nothing I, personally, can do about it. I used to have her number, but she changed it after I called her ass every 5 minutes asking her what she was wearing. I still haven't been served with that restraining order yet … Anyhow, let's just hope and PRAY that she does not look like THIS in the end! Now excuse me while I go sulk in grief…..
Be the first to receive breaking news alerts and more stories like this by subscribing to our mailing list.