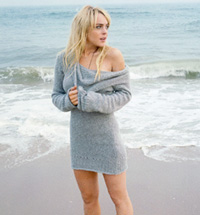 Damn, this girl can't go anywhere with upsetting SOMEBODY! Lindsay Lohan has upset residents of the Los Angeles rehab facility she checked into earlier this month because they claim she's treating the facility like a hotel. The fellow troubled souls seeking counseling and solace at the Wonderland center are upset with Lohan's trips out of the facility–and the fact she's being allowed to continue working on her new movie while in rehab. The final straw reportedly came yesterday when the Mean Girls star took a break from rehab to have her Mercedes serviced and shop.
Sources at Wonderland have aired their grievances to news Web site TMZ.com, claiming the actress is getting special treatment. They also tell the site Lohan has a masseur, hairstylist and makeup artist, who visit her regularly. But the actress' publicist, Leslie Sloane Zelnick, insists Lohan is taking rehab seriously, and the criticism is unwarranted.
She says, "Lindsay is 100 percent not getting special treatment. She's getting the same as everyone else. This isn't the Betty Ford Clinic; it's not a lockdown facility. There is personal time. All these nay-sayers who keep blogging and speaking out… they don't know what she's going through, they're not there. They shouldn't speak until they've gone through something like that."
Get over it people! Are you jealous?? This is a rehab center, not a lunatic asylum (even though people do confuse the two). She's not chained to a bed and drugged up on heavy amounts of prozac and zoloft (even though she should be). Mind your business, and stay out of hers…
Be the first to receive breaking news alerts and more stories like this by subscribing to our mailing list.