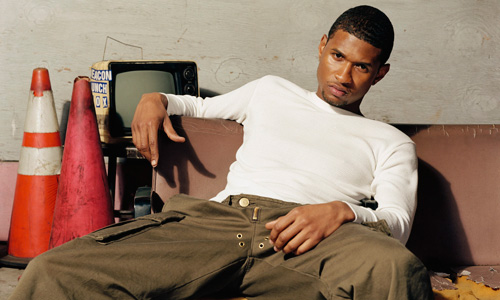 Apparantly, Mr. Usher Raymond was pulled over for speeding over the summer (4th of July to be exact), and recently went to court to receive some kind of judgement. Read below…
Usher has been ordered to pay up for living life in the too-fast lane. The Grammy winner was found guilty of speeding in a Georgia court Tuesday stemming from an incident last summer in which police clocked him doing 103 mph in a 70 mph zone. The 28-year-old "Yeah!" singer and Georgia native appeared in Bartow County Probate Court to face the citation he received on July 4, when cops pulled over his 2005 Range Rover SUV on Interstate 75. Judge Mitchell Scoggins issued a $425 fine to the multmillionaire, whose full name is Usher Raymond, and sentenced him to perform 20 hours of community service. It's unclear what form his service will take—garbage duty and hospital work have been recently favored by his fellow celeb outlaws—or how long he has to complete his task. However, Scoggins did say that Usher can perform his service closer to his home in Fulton, Georgia.

In any case, the megastar didn't seem too broken up about his punishment.After leaving the courthouse, Usher spent 30 minutes schmoozing with fans and signing autographs, per the Atlanta Journal Constitution. The sentence caps off a bumpy few months for the singer. In late August, he took over the role of Billy Flynn in the Broadway musical Chicago but was forced to abruptly stop short his hit run in October after being diagnosed with strep throat.
He wasn't too broken up? Hell, he was only charged $425! He probably had that much in his pocket, LOL. "Oh, only $425? Here's $500 judge, go buy yourself a new robe."
Be the first to receive breaking news alerts and more stories like this by subscribing to our mailing list.