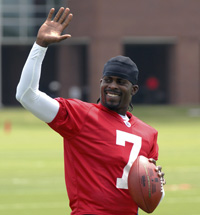 WHILE BOARDING A PLANE! – Michael Vick, QuarterBack of the Atlanta Falcons, reluctantly surrendered a water bottle to security at Miami International Airport that contained a residue "closely associated with marijuana." Police said today that no charges immediately were filed. The 26-year-old Atlanta Falcons quarterback entered an airport concourse Wednesday morning with the 20-ounce bottle. He eventually handed it over and boarded his flight to Atlanta. But his initial reluctance to turn over the bottle aroused suspicion among airport security screeners, a police report said. Two Transportation Security Administration screeners recognized the 6-foot, 215-pound Vick.
The bottle was found to have a hidden compartment that contained "a small amount of dark particulate and a pungent aroma closely associated with marijuana," the report said. The compartment was hidden by the bottle's label so that it appeared to be a full bottle of water when held upright, police said.
Police said the bottle was sent to the Miami-Dade County crime lab for analysis. It could be weeks before any decision is made on whether to file charges, said Detective Alvaro Zabaleta.
"We'll do an analysis and see what it is. There's no sense of urgency to it," he said to. Vick did not immediately return a phone call early Thursday. "We plan to look into the matter and discuss it with Michael Vick before having any further comment," Falcons spokesman Reggie Roberts said.
Haha nice going! What a way to land yourself on the No-Fly list. When will these people learn? You can't bring sand to the beach, and you sure as hell can't bring weed on a plane! This ain't Soul Plane!
Be the first to receive breaking news alerts and more stories like this by subscribing to our mailing list.