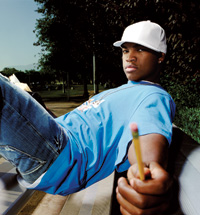 I was just listening to "In My Own Words" today thinking, "when are we gonna hear about a new release from my boy Ne-Yo?" And here it is!!!
#1 film, "Stomp the Yard." And he's writing for other artists, such as Britney Spears and Whitney Houston. So how in the world does Ne-Yo find time to indulge in the sexcapades that he translates so eloquently into lyrical form, let alone actually record new music? "Not easily," he laughed as he sat at the boards at Sony Studios while working on his forthcoming sophomore LP last week. Not easily indeed. "2006 was a ridiculous year," Ne-Yo added. The year came to a close with the singer finishing dates on the Scream V tour and seeing the song he wrote for Beyoncé, "Irreplaceable," reach #1 on the Billboard Hot 100 chart. "I've been living out of suitcases pretty much the whole year," he said. "With that being said, I had to develop what I call a 'portable comfort zone.' Pretty much wherever I'm at — be it a restaurant, bathroom, hotel room, where I sit down — that becomes a comfort zone. I don't have the luxury of saying, 'OK, let me get a flight to L.A., I gotta put this song down.' I gotta find the focus wherever I can find it at."

With his debut, In My Own Words, still being promoted, Ne-Yo has been trying to sneak in time to work on his yet-untitled second LP, as he did at Sony last week. The Las Vegas artist, dressed in a black T-shirt and black stocking cap, described his songwriting process as frill-free and said the end product sounds a lot more exciting than the actual music-making. Surrounding him were a couple of friends, reps from Def Jam and his engineer. So how does the young but already masterful craftsman approach the writing process? "It just depends on the song and the track and what part of the track catches me first," he said. "Sometimes it's the hook, the verse, sometimes it's the bridge. It's whatever, as long as the song comes out a specific way and there's melodies you hear once or twice and can sing back, lyrics you can do the same with but have depth. And a hook that catches you right off top.

"Some songs hit like that right off," he continued, noting a couple of keepers he will have on his spring album. "For whatever reason, the stars line up in the universe and the song just grabs you from the second it comes on. Those are the no-brainers. Those definitely gotta go [on the album]. The ones that get a little more difficult are the ones you gotta think about a little more. The ones that might not hit you the first time you hear it, but get you the second or third time you hear it. You pray it has the same effect on the rest of the world." But the humble Ne-Yo can take some of the load off — according to him, writing is a collaborative effort. "I always like to tell people this is not a one-man show. I'm writing the joints, but what has gotten me this far has been my team, Compound Entertainment. I sit down with them, my other family from Def Jam. We all sit down collectively and decide what goes on the album and the singles." A definite keeper for his new album and strong candidate for first single is a song called "Because of You," which he sang in the vocal booth at Sony last week.

"This one kinda picks up where 'Sexy Love' left off," he explained before heading into the booth. The quasi-sequel marks another collaboration between Ne-Yo and producers Stargate, who helmed a bunch of In My Own Words tracks as well as Ne-Yo's biggest hits as a songwriter, "Irreplaceable" and Rihanna's "Unfaithful." "I love the way you feel," he crooned after entering the booth. He stood in front of the microphone and twirled the headphone cord so tight around his right index finger that it almost cut off circulation. "I'm so strung out on you/ Girl, you know that I like it/ And girl, it's all because of you." He might have too much of a good thing in "Because of You," but on another track he played, "Angel," he hasn't quite locked down the girl the way he would like. "This song is called 'Angel'; it's pretty self-explanatory," he said, sitting at the boards. Seconds later, his recorded voice consumed the room. "She's a angel/ She don't belong to me/ She's a angel."

"We're honestly almost done," Ne-Yo said of the album production. "Just a few more key elements I need, then it will be ready to go. I couldn't half-step on this one. It's a little more stressful than the first [album]. The first time out, you can pretty much give [people] whatever you want and that becomes you. And if your first album does well, then your second album pretty much has to do well or else you get written off as a fluke or 'He got lucky.' So a lot more thought has to go in the second time around." Going deeper for Ne-Yo this time around also meant trying new approaches in songs. He says fans will definitely get more of what helped his first album go double platinum, but there's some experimentation on there as well. "It was very important to show I've grown as a person, as an artist, as a writer, just period," Ne-Yo said. "All the different things I've experienced, different cultures, going overseas. I experienced more [last] year than half my life.

"I touched on my more sexual side on the first album a tad bit with 'Mirror,' " he continued. "I have some more stuff along that line … I don't want to give it away though. The first album was kinda mellow as compared to what this album is gonna be. I went with more uptempo songs. Strong lyrics, strong melodies. I get in the studio and do what I do. I'm not trying to change the face of music with this record. I'm just trying to do what I love to do, and that's make music." Besides trying to come up with an album title, Ne-Yo is also deciding whether to call in some "favors" from collaborators, such as his Scream partners and MCs like Jay-Z and Fabolous, whose albums he appears on. Production-wise, he plans to keep a lot of the same folks who helped on In My Words, such as Shay Taylor.
I don't know about you guys, but I am really excited about his new album! I still bump "In My Own Words" constantly, and it never gets old to me. I would really love to have a site on this guy, but my girl Diva is currently holding that spot down with Ne-Yo.org. You guys should check it out! Anyhow, as more info about this album comes out, you better believe we'll have it here!
Be the first to receive breaking news alerts and more stories like this by subscribing to our mailing list.