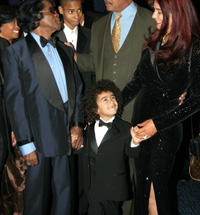 Man, this James Brown thing is getting crazier and crazier as the time goes by…
The late singer has provided for six of his children, but son James Jr. and partner Tomi Rae Hynie have been overlooked, said Brown's lawyer Strom Thurmond. Hynie's lawyer, Thornton Morris, admitted his client had no idea she wouldn't be listed in the will. He said: "She was locked out of the house so she doesn't know where the will that's being probated was found. "She has no knowledge as to when this particular will was executed." Brown died on Christmas Day from congestive heart failure as a result of pneumonia. He was 73. Soon after his death, the gates to Brown's home were locked until the singer's estate was settled.

Another of Brown's lawyers, Buddy Dallas, explained: "The house is owned by the trust and has been that way since August of 2000. "Technically, the trustees own it for the benefit of the trust. It was not in the name of James Brown and hasn't been that way for years." The will – which was read in Aiken, South Carolina, last Thursday – has not yet been filed in probate court.
Now, the reason I put "Papa" in quotes is because there are rumors circulating that James Brown is not James Brown Jr's real father. I personally believe otherwise, but if Tomi Rae takes these people to court, we will soon find out the truth. If he IS James Brown's son, that would be really messed up to not be included in your dad's will. And if he ISN'T James Brown's son, that would be even worse because his damn name is JAMES BROWN JR. Anyhow, all of this will teach people to get their stuff together to make sure their family is taken care of because no one on this earth knows when their time will come…
Be the first to receive breaking news alerts and more stories like this by subscribing to our mailing list.