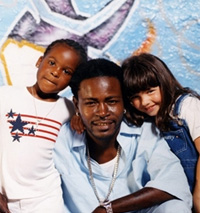 Slip-N-Slide/Atlantic recording artist Trick Daddy is celebrating the season by giving a little something back to his beloved Miami community. The pioneering rap superstar and his Trick Luvs Da Kids Foundation will host their 4th annual Christmas Toy Drive, with events slated for the two weekends leading up to the Christmas holiday – Saturday, December 16th at Miami's Moore Park, and Saturday, December 23rd at the city's Gould Park. The Christmas Toy Drive sees the Trick Luvs Da Kids Foundation partnering with KB Toys and Trick's fellow Floridian hip-hop icon, Pitbull, to bring cheer and distribute gifts to the community's underprivileged youth. The venture – which kicked off last month – invited KB Toys customers throughout Miami-Dade, Broward, and West Palm Beach to purchase a gift card to be donated to the Foundation.
Both Miami events will be hosted by Trick himself, who, along with Pitbull, Mobile Mike, and a host of other local luminaries, will be on hand to provide food, gifts, and entertainment to those in attendance. The mission of the Trick Luvs Da Kids Foundation is to inspire, aid and encourage underprivileged youth to achieve a better quality of life through educational, social and musical development. In addition to the Christmas Toy Drive, Trick Daddy and the Foundation have challenged Boys and Girls Clubs in New York, Florida, and Atlanta to nominate teen members who have taken the initiative to organize some type of community efforts for Christmas, whether it is a toy drive, coat drive, volunteering at a soup kitchen.
The contest – sponsored by Trick Luvs Da Kids Foundation, Boys and Girls Clubs, SNS/Atlantic Records, It's Cool To Be Smart, Inc., and BET – will see five top leaders chosen, with one whose efforts have truly gone above-and-beyond selected as the Grand Prize winner. This youth leader will receive a variety of gifts and prizes, including a $1000 contribution to their local Boys and Girls Club for a youth scholarship. What's more, they will join Trick at his December 18th appearance on BET's 106 and Park, where they will receive a special on-air shout-out. All five top leaders will receive a Trick Daddy gift pack, and a personal call from Trick.
Trick's eagerly awaited new album, "BACK BY THUG DEMAND," arrives in stores next Tuesday, December 19th. The collection – which features the single, "Bet That (feat. Chamillionaire and GoldRush)" – is the thug kingpin's first release in two years, following 2004's "THUG MATRIMONY: MARRIED TO THE STREETS," which reached #1 on Billboard's "Top R&B/Hip-Hop Albums" chart and #2 on the Billboard 200.
"BACK BY THUG DEMAND" sees the man known as T-Double-D joined by a rogues gallery of R&B/hip-hop stars, including Baby, 8Ball, Jaheim, The Dunk Ryders, Trey Songz, Trina and Young Buck. With their true-to-life lyrics and trunk-rattling beats, tracks such as the hard-edged "Breaka Breaka" and the boastful "Tuck Ya Ice (feat. Baby)" make it perfectly clear why Trick Daddy has been hailed as one of the most diverse and recognizable voices in hip-hop today.
Be the first to receive breaking news alerts and more stories like this by subscribing to our mailing list.