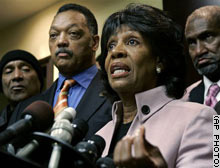 Black leaders on Monday challenged the entertainment industry, including rap artists, actors and major studios, to stop use of the racial slur that triggered the Michael Richards scandal. The Rev. Jesse Jackson and others said they will meet with TV networks, film companies and musicians to discuss the "n-word." Jackson also asked the public to not buy a DVD box set of the seventh season of the TV show "Seinfeld" that was released last week.
"We want to give our ancestors a present," Jackson said at a news conference. "Dignity over degradation." At the news conference, comedian Paul Mooney said he has used the "n-word" numerous times during stand-up performances but will no longer do so after watching Richards' rant. "He's my Dr. Phil," the black comedian said. "He's cured me."

Asked about free-speech issues, Jackson said the word is "unprotected." U.S. Rep. Maxine Waters, D-Calif., charged that only situations such as the Richards incident turn mainstream media attention to issues involving the black community. "This is not simply about whether or not the black community forgives or forgets. This is about understanding that this is pervasive, that this happens in all of our institutions, one way or the other," Waters said.
I can't help but agree with this. I find myself using the word a lot in daily conversation, and the only way to stop people like Michael Richards from using it against us (the black community)Â is that we stop first. Monkey see, monkey do, right?
Be the first to receive breaking news alerts and more stories like this by subscribing to our mailing list.