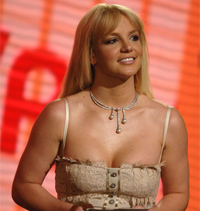 Aww, Brit, what's wrong? Can't take a joke??? Britney Spears was apparantly upset by a skit that was directed towards her soon-to-be ex-husband Kevin Federline last night at the 2006 American Music Awards. Ironically, right after the little skit, she was slated to present the award for Favorite Soul/R&B Female Artist (won by Mary J Blige) and kept her composure (even though she was pretty hot at the situation). In the skit, AMA host Jimmy Kimmel packed a fake K-Fed into a box and threw him into the ocean, calling the wannabe hip-hop artist "the world's first ever no-hit wonder." I thought it was pretty funny, LOL. Continue reading below…
"Britney was blindsided and upset," says a source familiar with the situation. "Some (of Spears's associates) were with her, and they were pissed. They asked that it not be shown on the (West Coast) feed." But, the skit was indeed broadcast on the West Coast. A rep at Jive Records did not return calls. Federline's rep declined to comment. Jimmy Kimmel said in a statement released Wednesday: "I knew they wouldn't mind because I know they both have great senses of humor." Spears filed for divorce from Federline earlier this month after two years of marriage. Both Spears and Federline have asked for sole custody of their two sons, Sean Preston, 1, and Jayden James.
Follow the break to check out the YouTube video of the skit!
Be the first to receive breaking news alerts and more stories like this by subscribing to our mailing list.