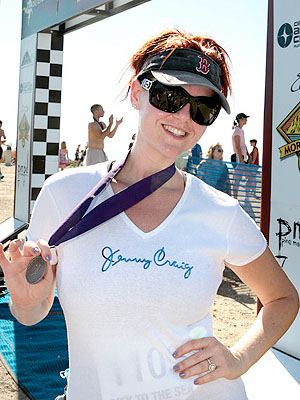 Sara Rue has a runner's high!
In a recent interview with People Magazine, Rue spoke on achieving her latest goal by running her first half marathon and completing it in great timing.
"I feel so happy! It's awesome! Now I understand what people have been saying about having a runner's high. I'm in the best shape of my life. Less than seven, eight months ago I couldn't even run a mile. This has been really empowering. When the race started we were being passed by hundreds of people," Rue said. "I was a little discouraged and I tried to joke with Christopher by saying 'hey, I don't think we're going to win this thing!'"
But she didn't let herself get psyched out and instead, focused on keeping the 12-minute mile pace she trained for during the summer.
"Once we settled into our pace, I just started enjoying the run. I wore my medal to lunch," she said. "I had to. I didn't think I'd enjoy [the run] as much as I did. It was empowering and fun – fun!"