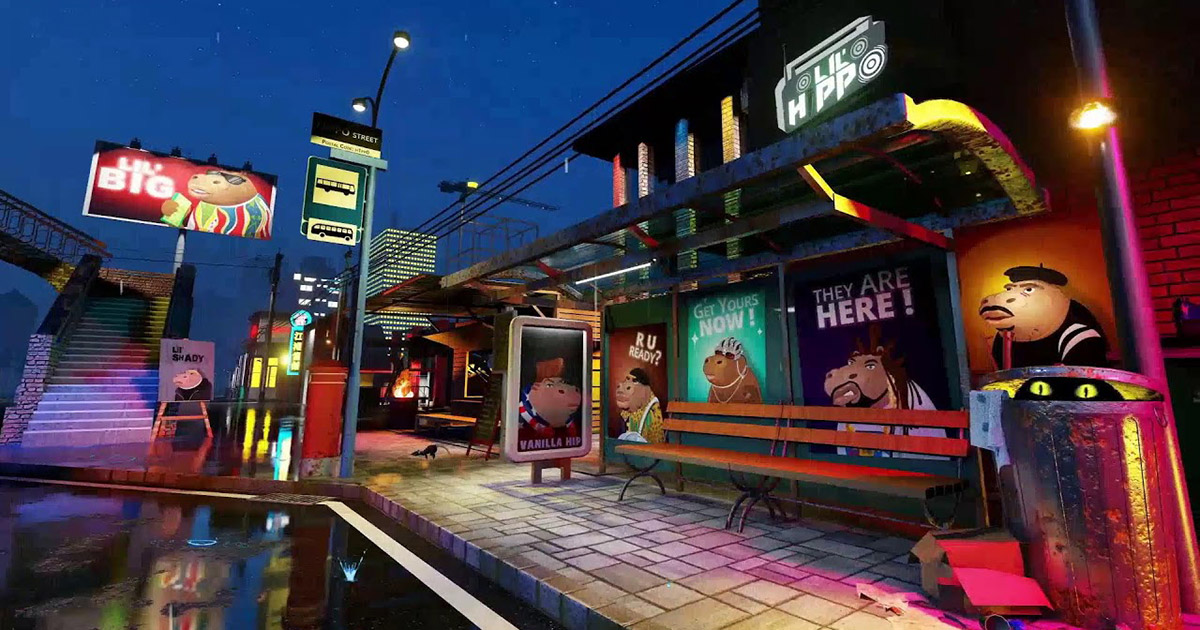 Lil' Hippo is on the move!
When we first told you about Lil' Hippo back in January, the NFT project was in its infancy stages with only 1,200 Lil' Hippos minted among 600 or so holders. Now, just a month and some change later, over 5,000 Lil' Hippos have been minted among 2,000 owners with a nearly 70 ETH trading volume on OpenSea.
In addition to that, Lil' Hippo has just launched a 24-hour streaming channel via YouTube, effectively checking off one of the items listed on their official roadmap … and it looks/sounds great!
As we previously reported, Lil' Hippo is NOT just your average run-of-the-mill NFT project. According to their website, Lil' Hippo is a "dope collection of 10,000 Lil' Hippo NFTs" that "is helping the next generation enter the Metaverse!"
Among the many ways they're going to achieve that goal includes the release of a beautifully-designed NFT collection inspired by Hip-Hop culture, plans to launch adult and youth interactive online workshops, hosting events, giving back to the community by supporting youth programs related to cryptocurrency and financial literacy, and much more.
"We want our generation to empower the next generation through education and interactive workshops," the official Lil' Hippo website states. "A percentage of all proceeds will be fueling the brains of the future into tech."
In a recent interview with Us Weekly, Rundown Media CEO Kiarash Behain—the man behind Lil' Hippo, along with his two children, daughter Kaira and son Kairo—explained why he decided to release an NFT project.
"I have been teaching financial literacy with a focus on cryptocurrency on social media platforms since 2017," Behain exclusively shared with Us Weekly, adding that his main goal with the project is to create generational wealth for his family's future and to continuously work to empower his children and their peers by building a community focused on financial literacy, NFTs and the Metaverse.
"While creating Lil' Hippo, I was determined to set a beautiful table that allowed for my supporters to join me with a seat of their own," Behain added. "This is a multi-generational project that creates financial literacy for those who didn't have the benefits and access to such opportunities growing up."
The media mogul, who was also praised by Forbes in August 2021 for being "social media's best kept secret," continued: "It was important for me to create a collection of art that was truthful and inclusive of the good, bad, beautiful and ugly parts of the music industry that our younger generations are inevitably exposed to. The goal was to do so in an artful and palatable form for all generations, without jeopardizing the raw essence of the culture. Each of the Lil' Hippo characters relate to any and everybody who resonates with them."
He concluded: "I believe that with a representation of art that embodies inclusiveness, we can translate our knowledge and teach financial literacy ubiquitously. There is a seat for everyone at the table."
If you're interested in Lil' Hippo and want to learn more about the project, visit their official website for more info, and be sure to follow their Instagram and Twitter pages, join The Rundown's Discord channel and follow The Rundown on Clubhouse.
DISCLAIMER: There is no offer to sell, no solicitation of an offer to buy, and no recommendation of any security or any other product or service in this article. Moreover, nothing contained in this article should be construed as a recommendation to buy, sell, or hold any investment or security, or to engage in any investment strategy or transaction. It is your responsibility to determine whether any investment, investment strategy, security, or related transaction is appropriate for you based on your investment objectives, financial circumstances, and risk tolerance. Consult your business advisor, attorney, or tax advisor regarding your specific business, legal, or tax situation.
Be the first to receive breaking news alerts and more stories like this by subscribing to our mailing list.