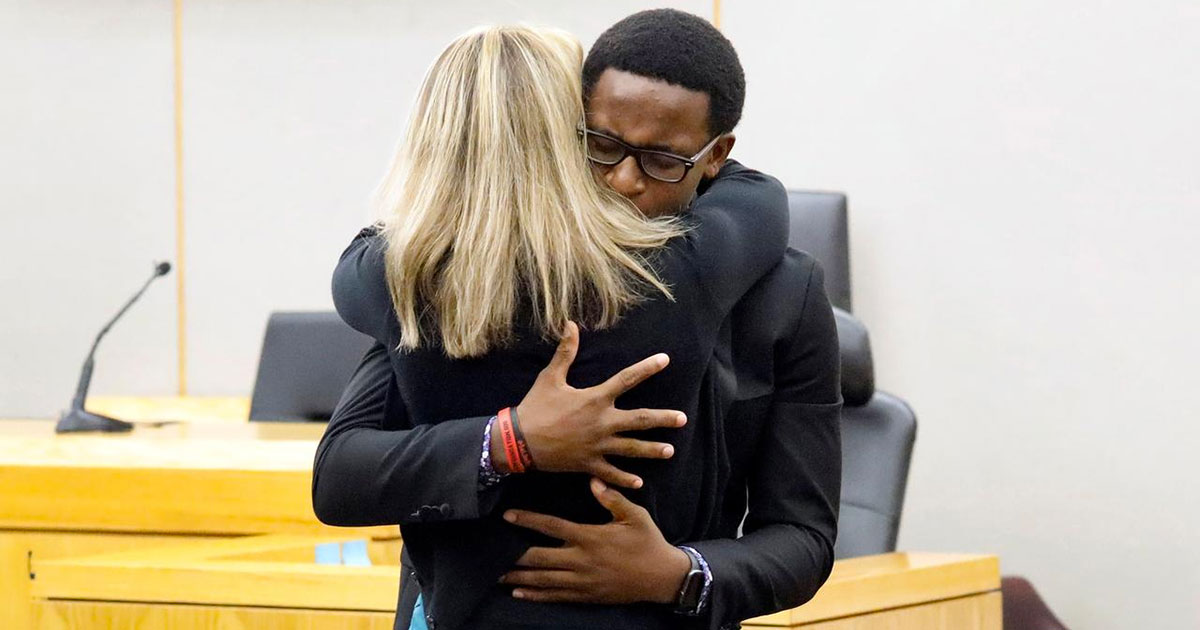 After former Dallas police officer Amber Guyger was sentenced to 10 years in prison for murdering Botham Jean in his own apartment, the victim's brother, Brandt Jean, gave an impact testimony and used his moment on the stand to forgive Guyger.
Botham Jean was shot and killed by Amber Guyger while he was sitting on his couch, eating ice cream and watching television in his own apartment.
Guyger testified that she accidentally walked into his apartment, which was unlocked, thinking it was her own, and opened fire on him, believing that he was an intruder.
She said she had worked a long shift that day and mistakenly parked on the fourth floor instead of the third floor where her unit was, directly below Jean's.
While on the stand yesterday before her conviction, Guyger tearfully apologized for killing Jean and said she "never wanted to take an innocent person's life." She added: "I'm so sorry. This is not about hate — it's about being scared."
Following his victim impact testimony, Brandt Jean made it clear that he holds no ill will towards the former cop who killed his brother and accepts her apology.
"If you truly are sorry, I can speak for myself, I forgive and I know if you go to God and ask him, he will forgive you. And I don't think anyone can say it, again I'm speaking for myself… but I love you just like anyone else.

"And I'm not gonna say I hope you rot and die just like my brother did but I presently want the best for you. And I wasn't going to ever say this in front of my family or anyone, but I don't even want you to go to jail. I want the best for you, because I know that's exactly what Botham would want you to do.

"And the best would be to give your life to Christ. I'm not going to say anything else. I think giving your life to Christ would be the best thing that Botham would want you to do. Again I love you as a person and I don't wish anything bad on you…"
Brandt then asked the judge if he could give Amber a hug. The judge said yes, and the two shared an embrace that lasted nearly a full minute as sobs could be heard in the background.
Watch the emotional moment below:
Be the first to receive breaking news alerts and more stories like this by subscribing to our mailing list.