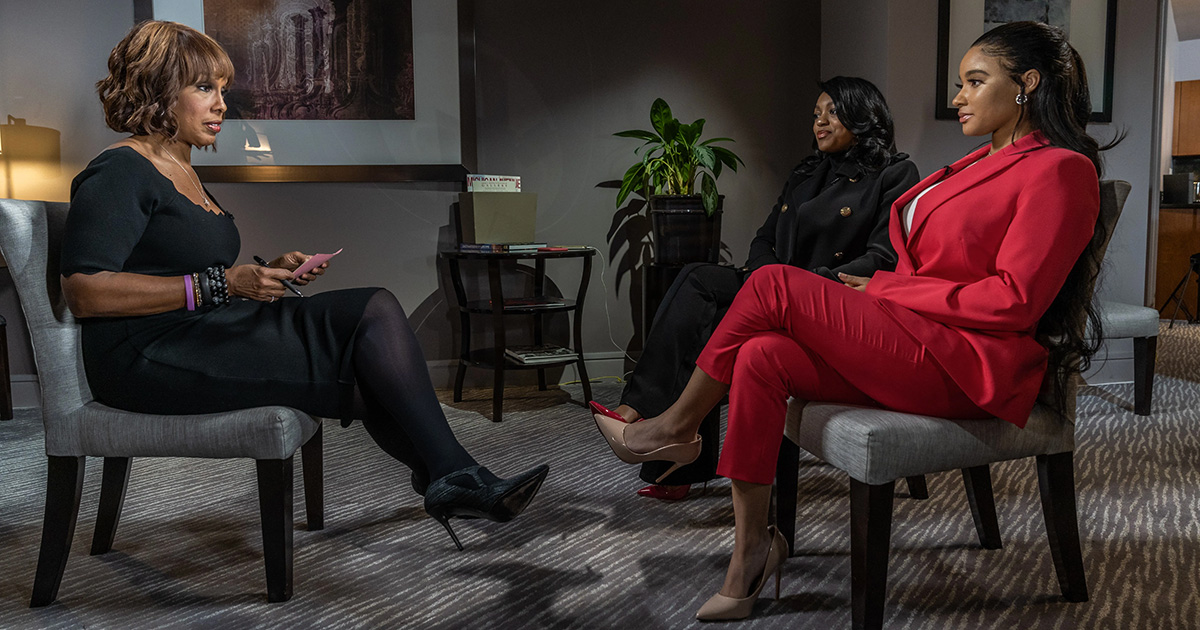 R. Kelly is such a control freak that he refused to let his two young girlfriends conduct their interview without his supervision.
King revealed that prior to her sit-down with 21-year-old Azriel Clary and 23-year-old Joycelyn Savage, which aired briefly Thursday (Mar. 7) on CBS This Morning, Kelly and his team promised her that the singer would not be in the room during the girls' interview.
King said that once she started the interview, Kelly hid around a corner and would even "cough very loudly" to make sure the girls knew he was listening to them.
King also said that Kelly even walked in on them and tried to stop the interview multiple times.
Clary and Savage—whose parents accuse Kelly of keeping them as "sex slaves" and brainwashing them—spent most of their interview defending their relationship with the 52-year-old R&B star, saying emphatically "we're with him, that's our relationship, a very strong relationship."
When King asked them to clarify if they both were romantically involved with Kelly, they replied that "we both have our individual relationships with him and we're all a family."
The women revealed during the segment that they have their moments when they go out to the movies and amusement parks together and took extreme offense to King's question about whether they in a three-way sexual relationship with Kelly.
"First of all I'm not here to talk about my personal life," Clary snapped at King, "and I would never share with anyone what I do in or outside of the bedroom, and as a woman, I'm sure you wouldn't either."
King said while that may be true, this is a very different circumstance, to which Clary replied: "It's not a different circumstance, people all over the world have multiple girlfriends."
Clary and Savage also echoed Kelly's claims that their families "sold" them to the singer, encouraged them to become sexually involved with him when they were underage, and are now retaliating because Kelly allegedly stopped paying them money.
"My parents told me to lie about my age, so when I first met Kelly, he thought I was 18," Clary said. "When I was 17, my parents were trying to make me take photos with him, take sexual videos with him. And they said, if they ever had to blackmail him, which they're trying to do now, they can use it against him, which is exactly what they're doing."
"Our parents are out here just to get money," Savage said, nodding in agreement with Clary.
"They're starting to send threats to both me and him, they said, 'I'll put all your naked pictures all over the world, I'm going to ruin you and him if he don't send $20,000 to this bank account by Monday, and then $10,000 after that,'" Clary added, before addressing her parents. "You're trying to solicit me like I'm some kind of f**king prostitute. I'm not, I'm your child."
After the interview aired, Joycelyn Savage's family released a statement denying that they ever received money from Kelly.
"At no point was money given to the Savage Family, discussed with the Savage Family, requested by the Savage family or offered to the Savage family," the statement said. The Savages challenged Kelly to prove his claim, declaring, "In fact, we've asked Mr. Kelly several times to produce receipts of such transaction."
Following the airing of Kelly's interview Wednesday, the Joycelyn's family held a press conference condemning Kelly and begging their daughter to reach out to them. Shortly after, Savage called her family and told them she's "very happy."
The family's attorney, Gerald Griggs, shared on Twitter a video of the family's side of the call, in which Joycelyn said to them: "I've told you guys a million, million times, that I'm OK and I'm very happy, you know where I'm at."
BREAKING: 30 minutes after @AttorneyGriggs held a press conference at his office in reference to @rkelly's interview with @CBSThisMorning, Joycelyn called her parents.

Here is video of the call where you can clearly see the conversation was scripted. #SurvivingRKelly pic.twitter.com/Qbiufg3FA3

— Dontaye Carter (@DontayeCarter) March 6, 2019
The video shows Joycelyn's mother, Jonjelyn Savage, as well as her younger sisters, 11-year-old Jori and 18-year-old Jailyn, asking her "When are you coming home?"
Her mother asks: "How do we know you're happy if we haven't heard from you for two years? Why can't you call your family or friends or come to your grandfather's funeral or talk to your grandmother who has Stage 4 cancer?"
Griggs said Joycelyn hung up after about three minutes and she appeared to be "reading from a script."
"When her little sister asked her, how're you doing, she paused for 45 seconds," Griggs told USA Today. "She called because she and someone in Kelly's camp saw our press conference (responding to Kelly's CBS interview). That broke through whatever control (Kelly) has over her."
R. Kelly is back in jail following a child support hearing Wednesday (Mar. 6), where he was charged with failure to pay $161K in back child support to his ex-wife Andrea Kelly. Under Illinois law, anyone who fails to pay child support in any amount over $20K can be charged with a felony.
A spokesman for the Cook County Sheriff's Office said Kelly will remain in the county jail until he pays the full amount he owes. His next court date is set for Wednesday (Mar. 13).
Be the first to receive breaking news alerts and more stories like this by subscribing to our mailing list.