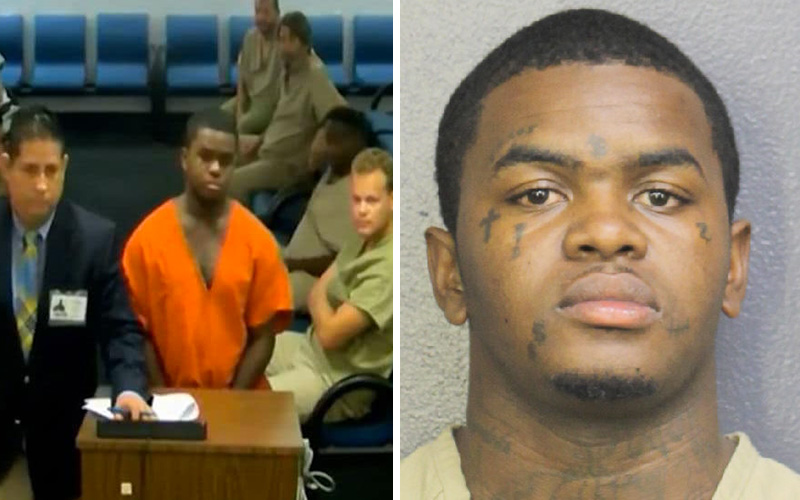 Dedrick D. Williams, the man accused of murdering XXXTentacion, appeared in court Thursday afternoon (Jun. 21) to answer to the charges he's facing in the rapper's shooting death.
The video footage from court shows Williams going before the judge at the Broward County Courthouse and he was formally charged with 1 count of first-degree murder and 1 count of grand theft auto.
Apparently, Williams has retained the services of a public defender, who said that there has been no witnesses or testimony in the case, and all the courts had to arrest him was a probable cause affidavit.
But the judge made it clear that based on the court docs, she found probable cause and "proof of guilt to be evident or the presumption great," so she chose to hold him without bond in regards to the murder charge.
Williams was also hit with a probation violation stemming from a 2014 case and will appear in court Monday (Jun. 25) for that.
As we previously reported, Williams—an 11-time felon—was arrested Wednesday night in South Florida after a police chase (he had also stolen a car, hence the grand theft auto charge). His criminal record includes arrests for cocaine possession, weapons possession, domestic violence, aggravated assault with a firearm and grand theft auto.
Authorities believe there are at least two others involved in XXX's murder, and according to TMZ, there are two other arrest arrests that have been signed by a judge. The two suspects haven't been taken into custody yet, but they could be arrested before the end of the week.
XXXTentacion was gunned down Monday afternoon (Jun. 18) in broad daylight as he sat in his car after leaving RIVA Motorsports in Deerfield Beach, Florida, which is not too far from where he lives.
The shooting happened in front of several witnesses, who reported seeing "masked men" fleeing the scene. X was reportedly shot in the neck and died instantly.
A Louis Vuitton bag was stolen from the scene and police have yet to determine if the men accused of XXXTentacion's murder had any personal ties to the entertainer.
Be the first to receive breaking news alerts and more stories like this by subscribing to our mailing list.