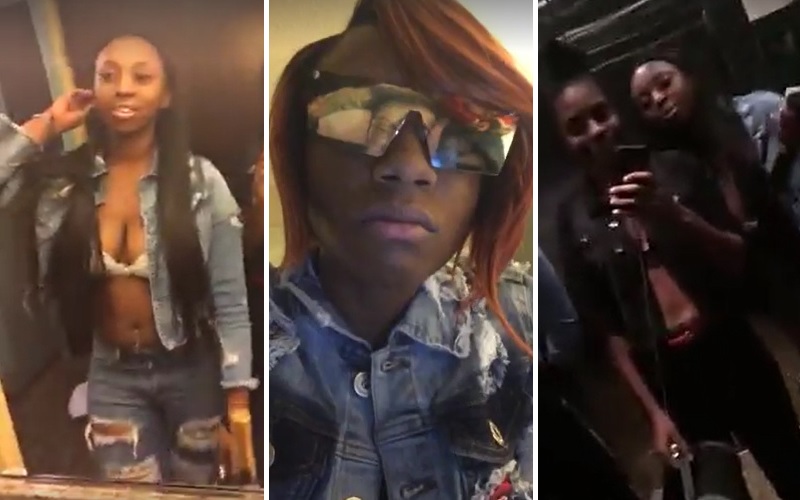 Police have confirmed they are reviewing several videos related to the death of 19-year-old Kenneka Jenkins, including the viral video that has caused speculation her death was the result of foul play.
The videos were recorded by "friends" of Kenneka just hours before she went missing at the Crowne Plaza hotel in Rosemont, Illinois (suburb near Chicago) on Saturday (Sept. 9) morning. Her body was discovered locked in an unused freezer in a vacant area of the hotel the following Sunday morning.
The 6-minute viral video in question was posted on Monifah Shelton's Facebook page, but was recorded by Irene Roberts. Irene is wearing heavily reflective sunglasses, which many believe reveals Kenneka sitting on a bed with at least two men. At the 3:08 mark, social media sleuths claim to hear a faint voice (presumably Kenneka's) saying "help me."
Gary Mack, a spokesman for Rosemont confirmed on Monday (Sept. 11), investigators have reviewed the video and identified most of the people involved.
"Yes, they've looked at it and continue to look at it and all the other social media videos and posts. They are leaving no stone unturned as far as trying to corral everyone they can and talk to them and interview them about what happened and what was going on that night."
The video has garnered over 4.5 million views and 54K shares. It has caused people to share on social media what they believe they see and hear in the video and to theorize what happened to the young woman by using the hashtag #KennekaJenkins.
Look into the glasses. A female is getting choked in a headlock. Those are the same pants Kenneka had on.. pic.twitter.com/9Cx2xZHdhT

— ?? (@BODAKYELLO) September 11, 2017
Exactly at 0:14 you can here a muffled "help me" mouth was being covered. Then the music went up..https://t.co/CQx1MvKZjs

— ?? (@BODAKYELLO) September 11, 2017
i can't really hear the audio good, but you can obviously see #KennekaJenkins in a chokehold in the reflection of that girl's sunglasses

— Shocantelle Brown (@ColeWorld_) September 11, 2017
https://twitter.com/LeastItsDev/status/907151082899599360
Crazy u can see her body lifeless threw the glasses smh #KennekaJenkins pic.twitter.com/1xKQ0vwRnJ

— ig: @queen0fkixs (@JDonyell) September 11, 2017
Look at the reflection on her ? U can see a guy with a red hoodie jackin off & a another guy fucking, when she say help me! #KennekaJenkins! https://t.co/k5PuRn6rlo

— Joshé ??? (@hausofkingz) September 11, 2017
VIDEO | at 0:25 We can hear a male say "We're about to murder somebody" Demand Justice for #KennekaJenkins // #SayHerName #BlackLivesMatter pic.twitter.com/WZBsHkKr4Z

— Sir Maejor (@SirMaejor) September 11, 2017
Police are also reviewing hotel surveillance footage as well as other videos Monifah Shelton recorded on that night and posted them after her self-proclaimed "best friend" Kenneka went missing. One video shows the group of girls in their hotel bathroom and another in an elevator.

An autopsy conducted on Sunday (Sept. 10) failed to determine a cause of death. The medical examiner is still waiting on results of a toxicology report, which could take weeks, possibly even months.
Police told Kenneka's mother, Teresa Martin, that her daughter was so intoxicated that she wandered into the freezer and was unable to get out. Martin does not believe this; mainly because a heavily inebriated Kenneka wouldn't be able to open the freezer doors in the first place.
"It's something that no one could ever imagine. It's unbelievable. I believe that someone in this hotel kicked my child," Martin said.
She also noted that Shelton and Robert's story has changed "over and over."
Despite the police's initial explanation, Rosemont spokesman Gary Mack says police have not yet ruled out foul play. "I don't think anything has been ruled in or ruled out at this point," he said. "It's just considered a death investigation at this point."
Be the first to receive breaking news alerts and more stories like this by subscribing to our mailing list.