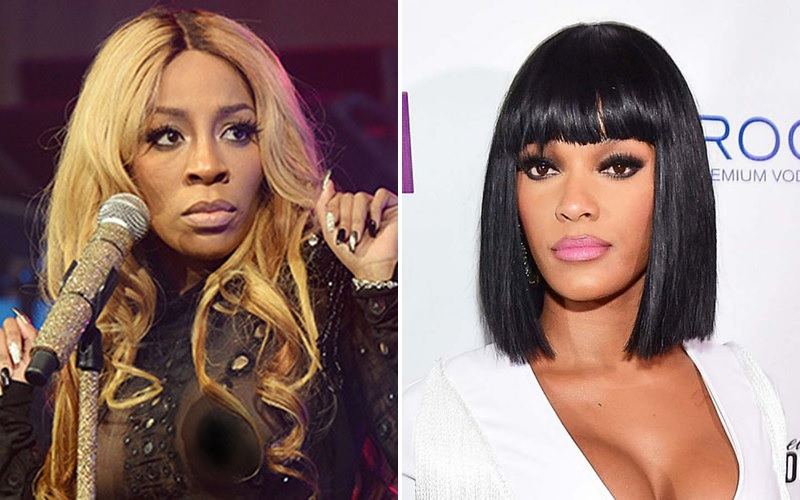 Joseline Hernandez continues to make enemies with her petty antics. However, the newest enemy on her list is somebody she may not want to mess with. K. Michelle went all the way on in the Puerto Rican Princess after she came for her on Instagram.
In several ruthless Instagram posts, K. calls her former friend a crackhead and even accused Joseline of snorting cocaine in her bathroom. She wrote in part:
"@joseline you was the same bitch tryna turn my mansion into the trap house. Snorting cocaine in my bathroom, bitch give that nose a rest… All the cocaine u do and u still manage to fine the time to stick your nose in my business."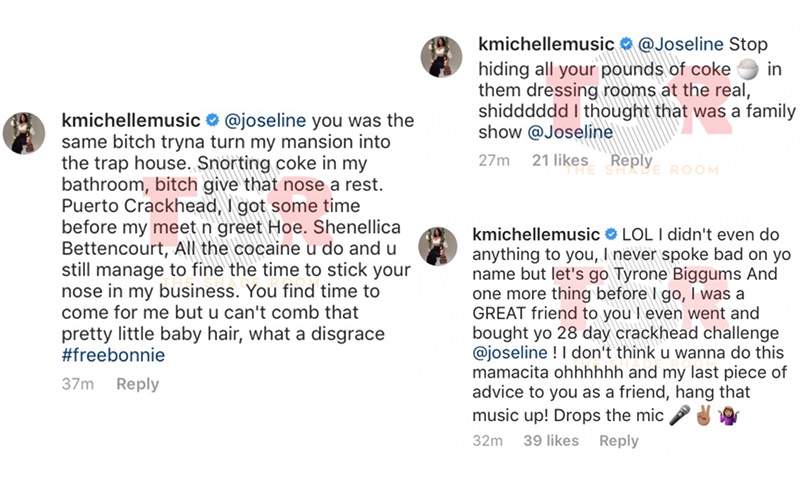 She adds that she was a great friend to Joseline and the current animosity she has her for is unwarranted. K.'s drop the mic moment came when she told Joseline to "hang that music up!"
Joseline attempted to clap back during an Instagram Live session. However, she really had nothing to say after that epic dragging.
The best she could come up with was call K. an "old mean lady" for bringing Joseline's baby, Bonnie Bella, into their beef. She also claimed K. doesn't have custody of her own child because someone else is raising them.
K. Michelle had to get Joseline together after she was apparently added to Joseline's hit list for simply having dinner with Love & Hip Hop creator Mona Scott-Young. Along with reality star Shekinah Jo, the two had dinner at K.'s Atlanta restaurant, Puff & Pearls, earlier this week.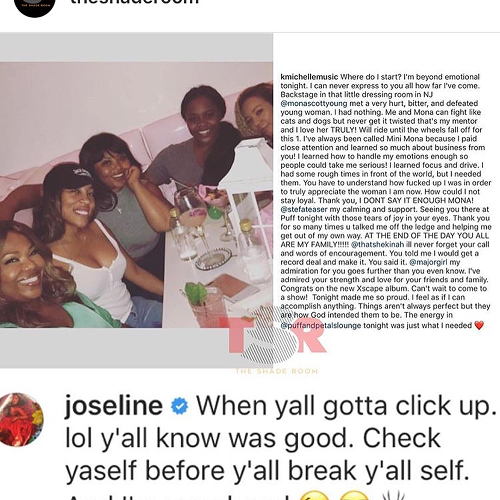 This rubbed Joseline the wrong way because she is currently beefing with Mona. Joseline allegedly quit LHHATL while taping the reunion special and claimed on social media that Mona wasn't paying her what she deserves.
However, in an IG video recorded by Shekinah, K. Michelle sang Mona's praises. "She has had my back. She has. We've been through so much. That's really my family."
https://www.instagram.com/p/BWOeD16l7zt/
"[Mona] pay everybody. Ain't nobody going unpaid," Shekinah added in the background, a clear reference to Joseline's allegations.
Joseline seemingly responded to the shade by posting a photo on Instagram, which suggested K. Michelle was a rat, while Joseline is a hyena.
"You:Top me:Bottom you do the math! Click up bitches that's what you gotta do! Dick riders.. I stay popping #LaBoriBori #catchmeifyoucan #runmemymoney #monafea"
https://www.instagram.com/p/BWOueiGAm1z/
Joseline tried, but she definitely has to take an L on this one. I'm no K. Michelle fan, but she was definitely the hyena in round 1 of this petty feud.
Be the first to receive breaking news alerts and more stories like this by subscribing to our mailing list.