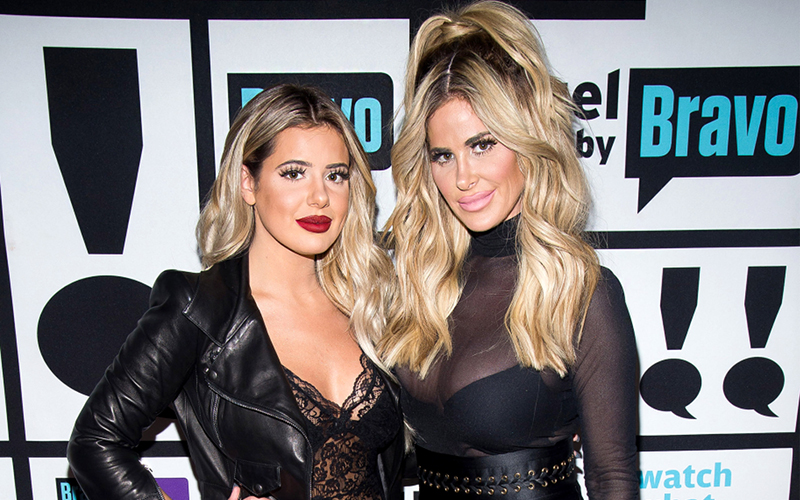 Wow, this is crass even for Kim Zolciak. The "Bravolebrity" is basically pimping out her daughter on social media.
Kim was so desperate to go to a John Legend concert that she was willing to trade sexual favors performed by her 20-year-old daughter Brielle Biermann for tickets. The Real Housewives of Atlanta star sent the flippant, yet disturbing, tweet to model and Legend's wife Chrissy Teigen on Wednesday (May 3).
@chrissyteigen sooo ur hubby is comin to ATL may19 & Kash is beyond OBSESSED w him! who does Brielle have to blow in order to meet him?? LOL

— Kim ZolciakBiermann (@Kimzolciak) May 4, 2017
Teigen responded to the tweet with a little bit of humor of her own. However, she also made it clear there was no need for such favors, saving Brielle from being pimped out by "Wig."
Plz don't blow anyone it's not that good of a show. Jk it's good but I'll get you tix without the oral

— christine teigen (@chrissyteigen) May 4, 2017
As you would assume, Kim's joke didn't go over too well with Twitter.
Sis…. what is you doing?? pic.twitter.com/hhykVRB2yg

— Hector D. (@catchdacurve) May 4, 2017
Class went nowhere she never had it to begin with

— Janet O'Keefe (@bluesteel711) May 4, 2017
https://twitter.com/RealityHoar/status/859981870515318785
At least have some morals…. offer ur services, not ur daughters. Sometimes what we think might be funny really isn't. Just saying.

— André (@andremichelle69) May 4, 2017
https://twitter.com/artsosmart/status/860233168502349825
— Matt Laughery (@mattlaughery) May 4, 2017
Kris Jenner 2.0.

— New or Lean, Louisiana (@JaboukiesToes) May 4, 2017
Just a suggestion, but you know you can just go on Ticketmaster and not pimp out your daughter?

— Caroline Feraday (@CarolineFeraday) May 4, 2017
It doesn't seem Brielle found the crude remark funny either. She posted a vague tweet condemning some people's (most likely her mother's) sense of humor and also agreed when another Twitter user offered to please John Legend in her place.
people only have a sense of humor when it benefits them

— Brielle Biermann (@BrielleZolciak) May 4, 2017
yessss let michael do it instead pls thnx chrissy 🙂

— Brielle Biermann (@BrielleZolciak) May 4, 2017
Some wondered if Kim was hacked, but no, the mom of six actually tweeted out that mess. And she doesn't regret it, so don't expect her to delete it anytime soon. She told TMZ it's just her and Chrissy's sense of humor. "If you can't take a joke, feel free to unfollow," she said.
Be the first to receive breaking news alerts and more stories like this by subscribing to our mailing list.