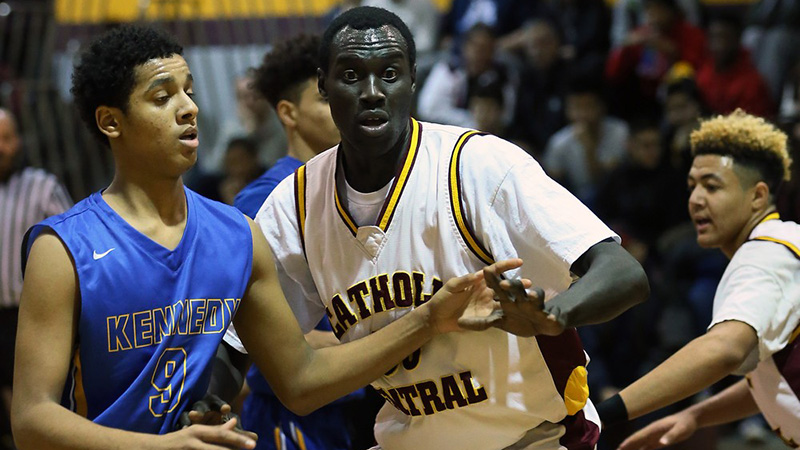 Jonathan Nicola is a good basketball player. In fact, the 6-foot-9, 202 pound "high school junior" is so good that his coach said in an interview with a local newspaper back in January that he had a pretty good shot at going to the NBA.
Too bad that won't be happening though, because Jonathon Nicola is apparently a 30-year-old man.
According to Canada's The Windsor Star, Nicola, who is originally from Sudan, was arrested by Canadian border officers for violating the Immigration Refuge Protection Act. His crime? Being a grown-ass man pretending to be a teenager.
For the past six months, Nicola has been posing as a 17-year-old 11th grade high school student at Catholic Central High School in Ontario, Canada.
It isn't known how officials found out he wasn't a 17-year-old 11th grade high school student, and instead, a 30-year-old man, but they did, and here we are.
Nicola was reportedly the star player of the school's varsity basketball team and was even living with the coach on a student visa through a program called Canada Homestay, which finds homes for foreign students.
Here is a video Nicola's coach made to show off his skills on the court:
The Windsor-Essex Catholic District School Board is keeping tight-lipped about the situation. "There's really not a whole lot to say," said spokesman Stephen Fields. "Because of the fact this is a matter that's still outstanding before the federal authorities, obviously we can't really comment on it. Beyond that there's not a whole lot to say."

When asked if there was concern over the thought of a grown man posing as a teenager in one of the board's schools, Fields said he wouldn't comment specifically on the Nicola case.

"Generally I can tell you that we have a system of checks and balances in place that whenever international students are coming into any of our schools, we make sure that they have all of the necessary government documentation that they require in order to be in one of our schools," said Fields.

He also wouldn't discuss whether the board plans to alert students and parents about the situation. "Again, generally speaking, if we felt at any time that there is any kind of threat to any of our students at any of our schools, then we would act appropriately," said Fields.

Back in January, [head coach Pete Cusumano] told the Star in an interview for a feature story that Nicola was so good for a young ballplayer that he had a shot at going to the NBA.

The group Windsor Hoops, which calls itself a "local basketball resource promoting news, players and results from Windsor," even posted a "prospect video" [see above] that shows Nicola shooting hoops and running drills in the school gym.

Nicola told the Star in the January feature story that he arrived in Windsor on Nov. 22, 2015, just three days before his 17th birthday. He said he left South Sudan, his disease-ridden, wartorn home, for a better life in Windsor.

"A few of my friends know of my background, how we live over there," he said in January. "I don't know how many of them have a clue of how it is in Africa."

Nicola said in January it took him six months to acquire a Canadian student visa. "With the war going on, terrorism and all this, they make it real double hard," he said.
This definitely changes the whole meaning behind "Big Man on Campus."
Ball must seriously be life for a 30-year-old man to go through the effort of posing as a 17-year-old high school student just to play on a basketball team though.
The biggest question from this though is … HOW?
How the hell did this guy secure a government-issued student visa that listed him as a 17-year-old? How the hell did the coach not realize that he had this big ass 30-year-old man rooming with him?
How the f**k did this big, grown-ass man just fly under the radar of his teachers, administrators and other members of the school's faculty? How were parents (ESPECIALLY FATHERS!) not concerned when they saw this big ol' male human walking the halls of their teenage daughter's school?
HOW? HOW SWAY?!?
Be the first to receive breaking news alerts and more stories like this by subscribing to our mailing list.