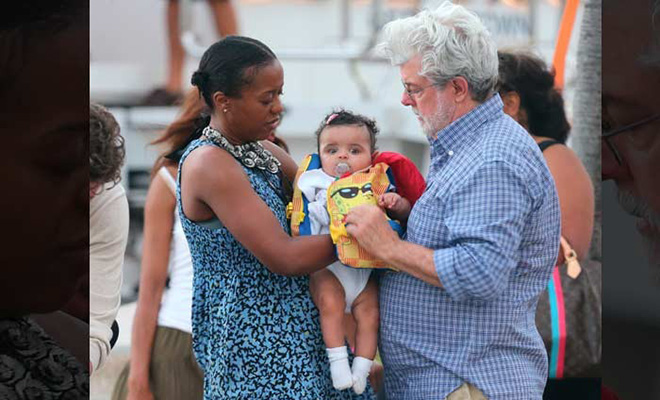 At 69 years old, George Lucas has to be the oldest "new" father in history! Okay not exactly (he has other children), but you get the point, hopefully. And if not, just keep reading.
The "Star Wars" creator was spotted on New Year's Day in St. Barts with his 4 month-old daughter Everest and his new wife Mellody Hobson.
Baby Everest is Lucas' first biological child, since his other three children were adopted.
Lucas and Hobbs — a Chicago native and Princeton grad who also just so happens to sit on the board of directors of the Starbucks Corporation, Dreamworks SKG and Groupon — met at a business conference in 2006 and have been dating ever since.
The couple got engaged in January 2013 and were married by June of that same year at Lucas' "Skywalker Ranch," no less. Baby Everest was born in August via surrogate.
Congrats on the new baby George … we wish you and the fam the best of luck! This just shows that it's never to late to have kids!
[H/T: TMZ]
Be the first to receive breaking news alerts and more stories like this by subscribing to our mailing list.