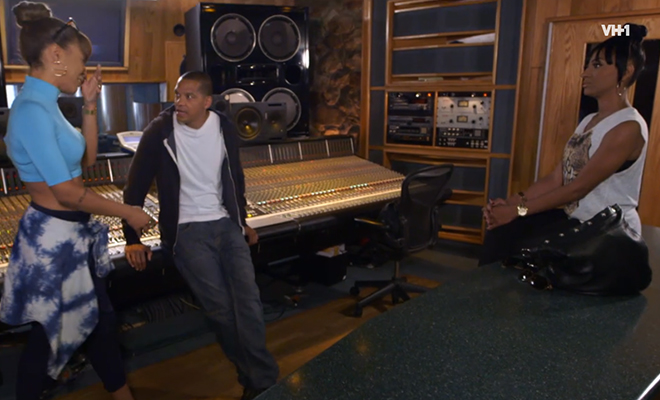 Life in America can be a rough transition for immigrants. Think of Eddie Murphy's character from "Coming to America" and all of his struggles.
So have a little heart as you watch Amina stumble and fall throughout her journey with Peter as finds her way through love, hip-hop, ratchet romance and baby mama drama.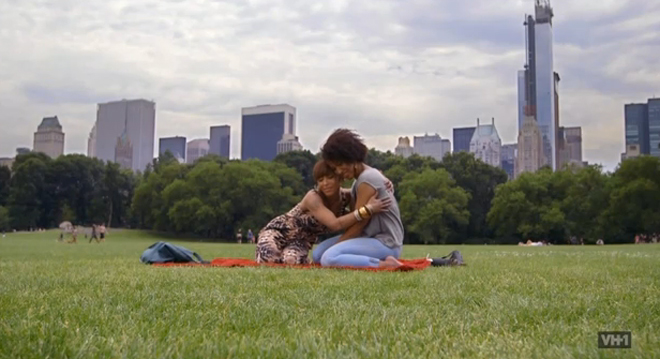 Amina starts out the episode in a very happy place: Central Park with her sister Sophie.
Sophie was a one-time bandmate of Amina's in the group Black Buddafly, but she had enough sense to realize fetch wasn't gonna happen and hightailed it right back to Germany after they had that one hit song.
In an attempt to seem human, Amina reaches out to Sophie for advice on the Peter situation.
Though Sophie seems to be doing verbal jiu-jitsu with the English language, she essentially tells her sister to either leave Peter or accept the situation for what it is. Oh those Germans, they're so practical and logical!
Unfortunately for Amina, there will be no clean resolution for her relationship with Peter since Tornado Tara is coming her way.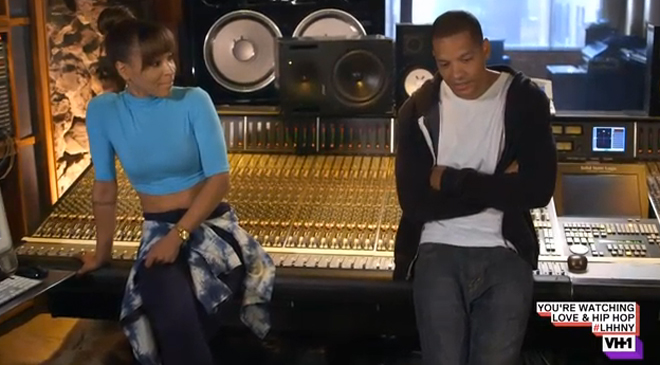 Mr. and Mrs. Pankey head into the studio for a recording session and they're listening to a duet they've recorded that they're quite pleased about.
In walks Tara with a stank look on her face and a smug smile. She announces that she needs to have a conversation with the two of them and in the most crudest, rudest manner, she lets Amina know that last Wednesday, she told Peter to come over and eat her p**sy out and he did it. No questions asked.
Now, see, Mona Scott-Young be tryin' it with her scripts. We all know damn well that Tara using such specifically graphic language was a clear manipulation on the producers' part to get people saying, "OH SNAP!"
And if we weren't tipped off by the Tyler Perrry-esque dialogue, Amina's horrid acting was another sign that we're just watching a real bad black soap opera.
But whatever, let me stop spoiling the fun. So yeah, Amina gets mad and does that high-pitched, squeaky, mouse-sounding voice thing that she does when gets upset.
"ARE YOU SERIOUS? AREUSERIOUS?!" Amina squeals.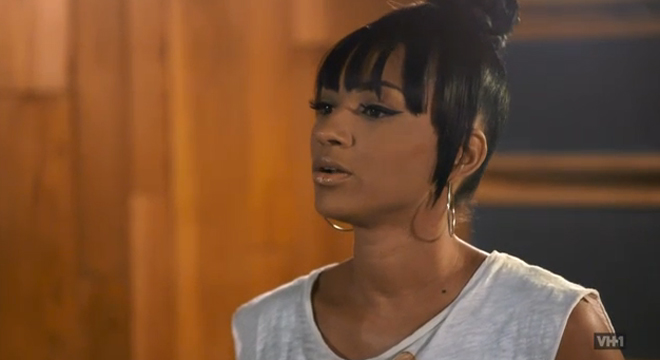 Tara leans back and takes in the destruction she has wrought and she is pleased. Amina storms off and then storms back in asking Tara to leave so she can talk to her "husband." Amina throws the word around as if it still has meaning and Tara takes the opportunity to remind that they might be legally wed, but Peter's still humping around in her bed.
What follows is more whining and squealing from Amina but in the end, she vows to leave Peter for good. Girl, bye. That's what Mimi said on "Love & Hip Hip Atlanta" two seasons ago too.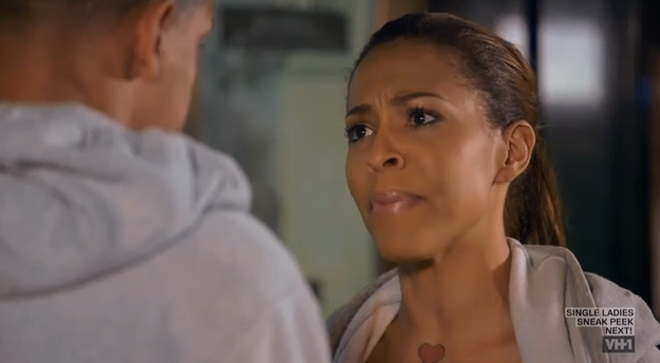 Sure enough, by the end of the episode, Peter stalks Amina outside of her yoga studio after she's ignored his calls. When he hands her a bouquet of flowers, Amina discards them quickly, but as usual, Peter wears her down and Amina starts to negotiate with Peter on how he can win her back.
First, he has to wear his wedding ring in public (the fact that she has to strike a bargain to get him to do this in the first place is just….). Next, he has to introduce her to his kids. And lastly, he's not allowed to be around Tara.
Peter objects loudest to Amina's last request but Amina holds firm. If Peter wants anymore of her good German strudel, he's gonna have to step away from Tara's caramel macchiato. Is you hongray?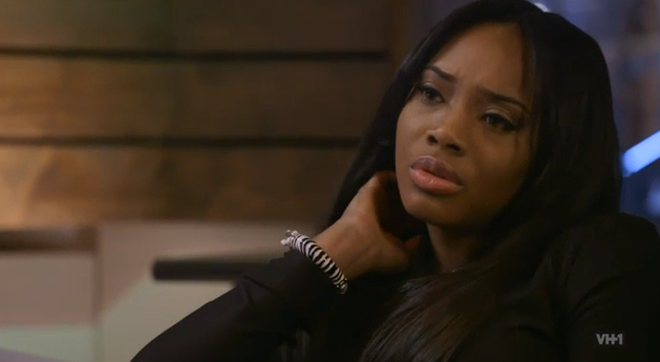 Yandy's Eternal Wait for Mendeecees
Friendships often come with perks and benefits, but Mona really needs to tell her friend Yandy to just bow out of the "Love & Hip Hop" series at this point. All Yandy is doing is sitting around waiting for Mendeecees to come home from prison. Whose idea of a good time is that?
On top of that, dumbass Yandy is completely uneducated on the process and she keeps hoping week after week that Mendeecees is going to be released from prison.
Girl, did you read the charges? Mendeecees is gonna be a damn fossil by the time he gets out of prison. Just g'on with your life already. Do it for you.
Unfortunately, instead of Yandy fading out gracefully, we're forced to sit and watch as she asks J. Dinero, some aspiring female rapper, school Yandy on the federal court process.
She breaks the news, for the millionth time, that Mendeecees won't be returning home anytime soon and Yandy's spirit breaks.
J. Dinero points out that it's about time Yandy just start acting like Mendeecees won't be home anytime soon and just get to work. That's the first sound piece of advice Yandy's gotten in a while.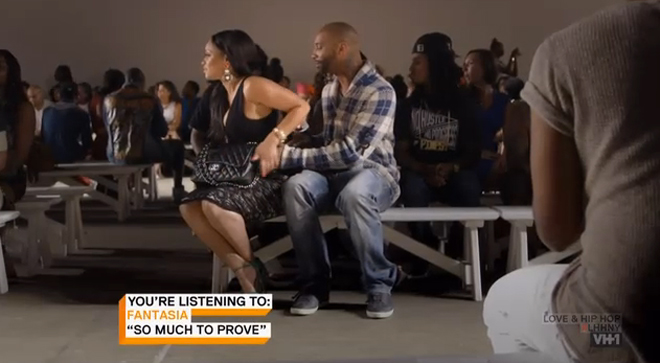 Tahiry and Joe Budden Bore Viewers with their Cat and Mouse Game
Once upon a time, the Tahiry and Joe Budden relationship seemed dynamic and exciting. At this point, Joe's Dr. Jekyll and Mr. Hyde act is no longer amusing and Tahiry's massive ass isn't enough to keep us interested in their recycled storyline.
The whole episode, Joe relentlessly flirts with Tahiry in an attempt to woo her back. When they're at a New York Fashion event he's all hands on. And at his mother's 25th year sober party, he increases the pressure and pursues Tahiry even further.
Tahiry acts frustrated and she all "fed up," but we know that they'll somehow, someway find their way back into others beds.
They're giving us all of the Bobby and Whitney dysfunction but with 25 percent of the charm and hilarity. So please, Mona, do us all a favor and put this storyline out of its misery.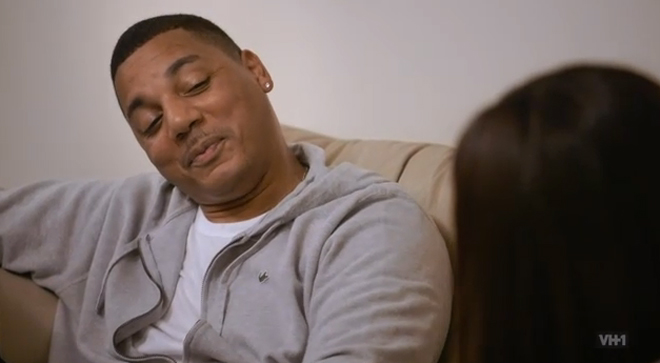 Erica Mena Bounces Back into Rich's Lap
We all knew that Erica Mena's lesbian tryst with her friend and (likely unpaid) Chipotle spokesperson Cynthia was as fake as the implants in her chest, but does Erica have to show her cards so quickly?
After doing a sexy photoshoot with her bae, Mena comes clean and tells her that she actually signed a management deal with Rich.
Cyn, as she's called, is shocked and annoyed but she handles it well. She just makes Mena promise her that the relationship will be strictly focused on her music career. Erica swears it won't get sexual.
Guess how long that promise lasts? Un minuto.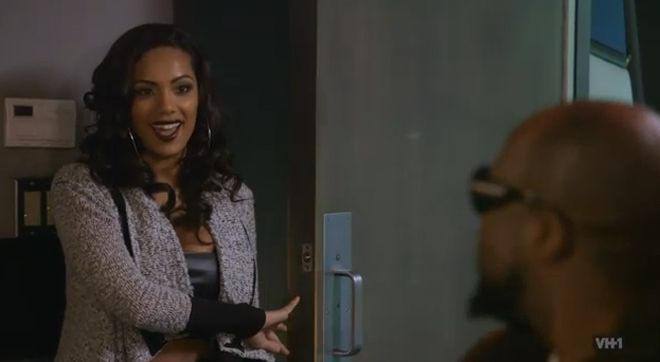 When Mena stops by Rich's studio to pay him a visit, she bumps into Wyclef who's talking shop with Rich Dollaz. Seriously, has it come to this Wyclef? Making cameos on "Love & Hip Hop"? You did "The Score," man. You're better than this.
After Clef says his goodbyes, Rich plays Mena a new track that he's secured for her since their deal is official. It's a dance track and it sounds like some shit that Jennifer Lopez would've recorded two years ago, but Mena is over the moon about it.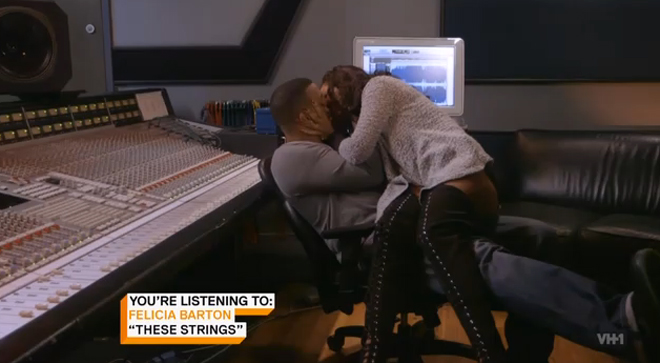 Rich takes advantage of the situation and asks Mena to "sit on Daddy's lap" and before you know it, they're tonguing each other down. Sorry, Cyn!
Of course, this then causes much confusion in Mena's head and she seeks out advice from friends and she eventually confronts Rich about whether he wants a personal or professional relationship from her. He points out that it's really in her court, since she's the one with the girlfriend.
Mena tells him to "man up" and tell her what he wants. Rich says he's "afraid" of committing to her because she's kind of crazy and welp, she doesn't take too kindly to that.
But hey, as crazy as Mena is, Rich is never gonna leave that pupusa alone so Mena shouldn't worry. He ain't goin' nowhere.
Be the first to receive breaking news alerts and more stories like this by subscribing to our mailing list.