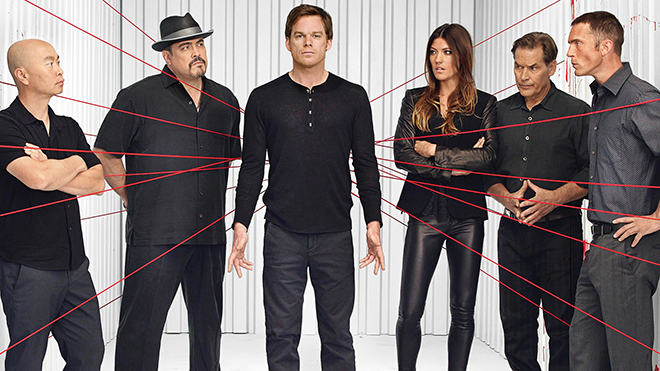 With just three episodes left until the SERIES (not season) finale of "Dexter," fans of the popular Showtime series are wondering how the show will end.
Will Dexter Morgan be caught, after all is said and done? Or will he literally get away with murder, something he's been doing successfully over the past eight seasons?
While we won't know exactly what happens until the final episode of "Dexter" airs on Sunday, September 22nd, HollywoodLife.com has rounded up five possible theories, which you can read here:
5. Dexter Gets Caught By Quinn Or Elway

Joey Quinn (Desmond Harrington) has always been suspicious of Dexter Morgan (Michael C. Hall), a low-level Doakes if you will. He's bound to cross paths with Dex as he continues to parse out Zach Hamilton's (Sam Underwood) true identity while also tracking down the Brain Surgeon Daniel Vogel (Darri Ingolfsson). Meanwhile, Elway (Sean Patrick Flannery) is hunting down Dexter's soulmate Hannah McKay (Yvonne Strahovsky) like a rabid dog. If her life is being threatened, will Dexter sacrifice himself to save her?

4. Debra Turns Dexter In

This whole season has been a psychological battle for Debra (Jennifer Carpenter). She's gone from (almost literally) killing herself for helping Dexter, to becoming complicit to Dex's deeds, to once again questioning if that is the right choice. She has always chosen family first, but if Dexter continues to put her life and morality on the line, will that be enough to get her to finally change?

3. The Vogels Take Out Dexter

Dr. Evelyn Vogel (Charlotte Rampling) has been Team Dexter all season, but now that her psychotic fratricide son has returned, she has a new serial killer to adore. And Dexter just happens to want to murder him. Will there be an epic showdown that Dexter eventually loses? You have to admit — there would be something poignant about Dexter getting destroyed by the woman who created him in the first place.

2. Hannah McKay Is A Police Informant

Dexter previously ratted on Hannah — what goes around comes around? She's been playing the "true love" card lately (and it's been working to perfection on Dexter), but you can never trust a woman who poisons your morning cup of coffee. She will always keep her interests her main priority. So maybe police caught her after she escaped from prison and she realized the only way to stay free was to give them the one thing they want more — the real Bay Harbor Butcher.

1. Dexter & His Family Ride Off Into The Sunset

Unfortunately, this theory isn't as crazy as I'd like it to be. Dexter and Hannah have started talking about migrating to Argentina and living like a normal family so much, we can no longer ignore it as a possibility. After all, think about all of the crazy things Dexter has gotten away with so far — is it that absurd to suggest he might escape scot-free? The idea that Dexter will overcome his urges to kill is nice and all but come on, doesn't he need to pay for everything he's done?
With those five theories in mind, how do YOU think "Dexter" will end?
Be the first to receive breaking news alerts and more stories like this by subscribing to our mailing list.