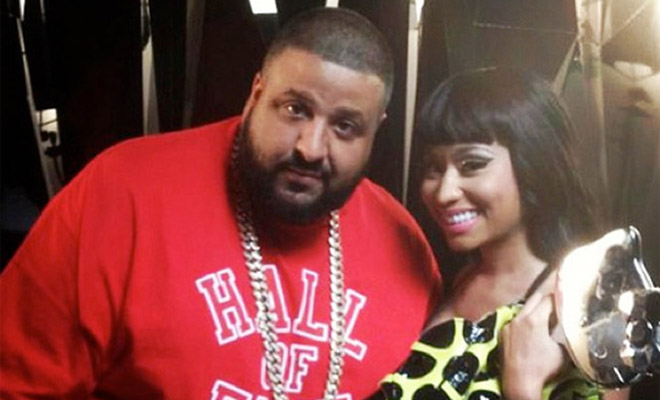 If you were one of the people who knew DJ Khaled was just trolling everyone when he videotaped a "heartfelt" proposal to Nicki Minaj, well then you my friend are a lot smarter than you look.
Apparently, despite even what DJ Khaled told US Weekly when he said he was "dead serious" when he professed his love to Nicki Minaj and asked for her hand in marriage, it was all just an elaborate publicity stunt to promote a new song they have called "I Wanna Be With You," which also features rappers Future and Rick Ross.
LISTEN HERE:
In an interview with Hot 97's Funkmaster Flex over the weekend, Nicki fessed up about the stunt and said she never took the proposal seriously, but she also didn't know he was going to do that either.
"I was shocked just like the rest of the world," she said. "I was cracking up laughing with the rest of the world 'cause Khaled is a master at what he does."
After Khaled's proposal started making its rounds around the web, a rumor cropped up saying that Nicki had filed a restraining order against the Young Money DJ/producer for being "overbearing" and basically stalking her (he had allegedly sent flowers to her home on numerous occasions, etc.), but apparently none of that was true. In fact, though their relationship is more than just professional, Nicki made it clear that it is far from romantic.
"Khaled is my brother and Khaled was not serious with that damn proposal, ya'll," she told Hot 97's listeners. "Please let it go. He was kidding. He's not attracted to me, he doesn't like me. We're brother and sister."
LISTEN TO NICKI MINAJ'S INTERVIEW WITH FUNKMASTER FLEX HERE:
Be the first to receive breaking news alerts and more stories like this by subscribing to our mailing list.