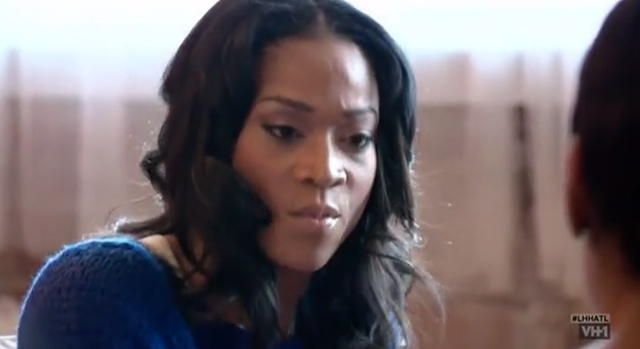 It used to be that hell had no fury like Ms. Joseline, but in recent episodes, Mimi Faust and her inner She-Hulk have been running amuck.
Mimi and Ariane catch up at the beginning of the episode to try and piece together what the hell went wrong the last time they were all together at Nikko's video shoot.
Even though Mimi blew up on Ariane, she believes that K. Michelle is to blame for the whole mess because she started the gossiping and whispering about Johnny Crome's alleged homosexuality.
WATCH: Johnny Crome & Nikko's "NY 2 L.A." Music Video (featuring Mimi Fast)
Ariane really tries hard to play both sides here, as she fully believes and agrees with K. Michelle's assertion that Johnny is gay, but she also wants to support Mimi and pretend like she's not picking sides.
In reality, I just wish she'd pick a new Asian lady to rob wigs from, cause Ariane's Sue Liu Chinese buffet wig is not the business.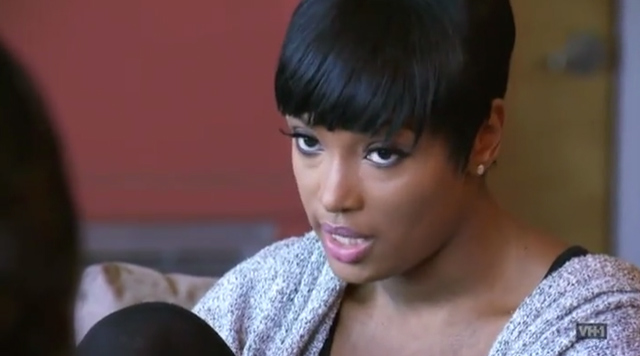 Despite Mimi expressing her outrage and anger toward K. Michelle, Ariane STILL invites her to New York to watch K. Michelle's show at B.B. Kings.
Ariane pretends like she only wants Mimi and K. Michelle to make peace, but Ariane knows that K. Michelle is like a suicide bomber. She's more liable to blow herself and everybody else up before she says, "I'm sorry" for any damn thing.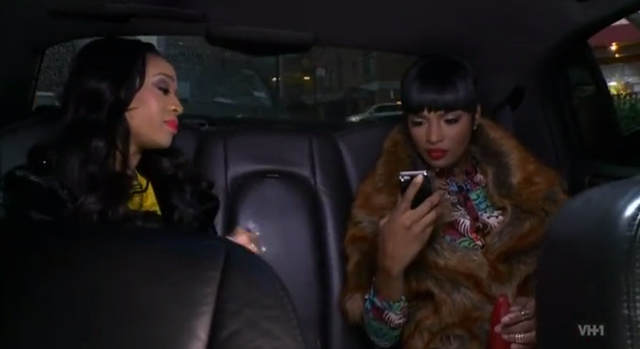 Things really get turnt up when Mimi plays Ariane an interview that K. Michelle did calling her boo thang Nikko a downlow homosexual. You know what that means, right? It's. About. To go. Down!
So after K. Michelle performs her set in her finest lacefront wig, she heads backstage to catch up with Mimi and Ariane.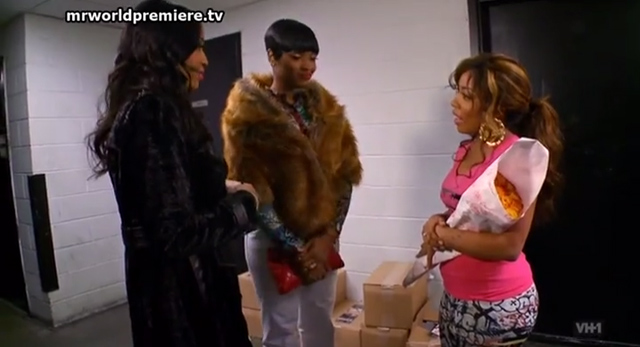 I don't know if I just haven't been paying attention but Mimi and Ariane TOWER over K. Michelle. I mean, it looks like Gargamel's sisters towering over Smurfette.
Mimi tries to have a conversation with K. Michelle about what went wrong at the video shoot but K. isn't really interested in the conversation so she blows her off and again insists that her man is gay. That's when Mimi fires back that that's why she can't keep a man.
That set something off in K. Michelle as she snapped her neck around and smacked Mimi with the bouquet of roses that Ariane delivered to her.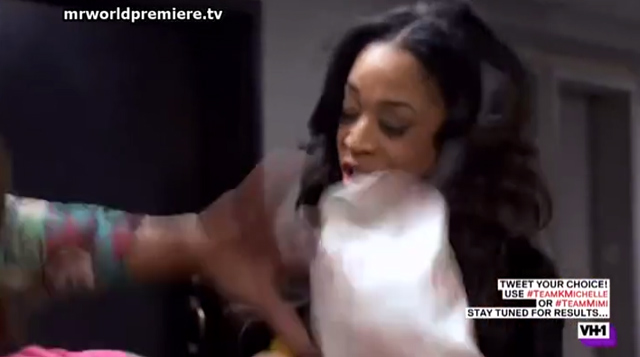 Grand opening, grand closing.
After K. Michelle stormed off and ditched them bitches, Mimi and Ariane got into this very bizarre face-to-face argument where they had like 2 cm between them. They look like an aggressive and femme lesbian couple in a heated argument. They f*cking?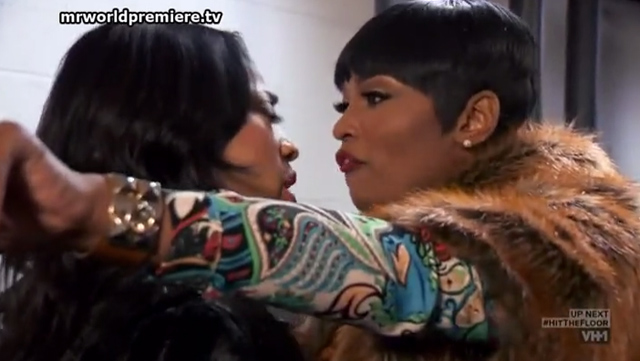 ***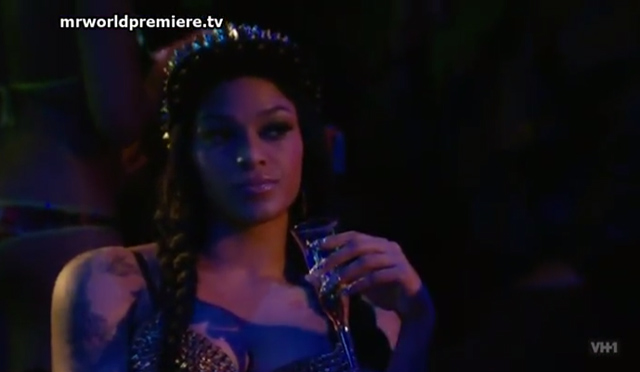 Joseline No Quiere Che
There are two things that Joseline wants in this world: A hit single and her Steebie. Right now, Che Mack is getting in her way of both of those things.
These two have never gotten off on the right foot. Last time they met, Joseline called Ms. Tattoo "the help" and Che hollered like a cow giving birth.
Stevie really wants to make Che his third sister wife though, so he convinces Che to try and smooth things over with his bottom bitch Joseline.
But Ms. Joseline is NOT interested sharing her Steebie so she gives Che the cold shoulder at every turn.
Che tries flattery but gets rebuffed.
"Bitch you will die, be born again, die again and be born again before I do a song with you bitch." — Joseline
She even tries to shrug off Joseline's sour attitude. But when Che says, "Tic tac toe" to Joseline, she gets assaulted by the Puerto Rican Princess.
Damn. Maybe she's more of a Tetris girl?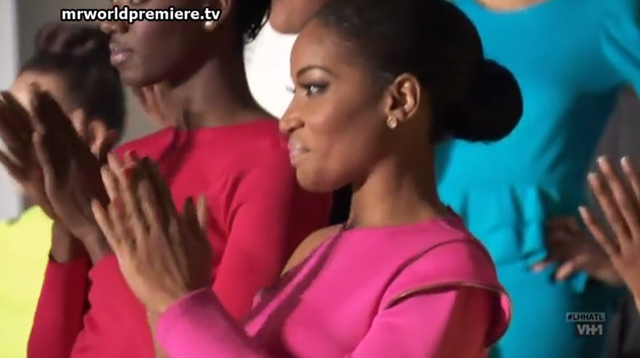 Friends in All the Wrong Places
Somehow, Shay and Erica Dixon seem destined to cross paths. DJ Traci Steele invites Shay to a fashion event in which Scrappy's baby mama is walking the runway. Nevermind that Erica, despite being a very lovely woman, is few people's idea of a runway-fit model.
Traci tries to get Shay and Erica to make amends but Erica just pretends as if that female Muppet doesn't exist.
This whole relationship between Shay and Traci doesn't make sense. Doesn't Traci hate her baby daddy because he can't stop messing with hoes and homewreckers? Isn't Shay prime example number one of both?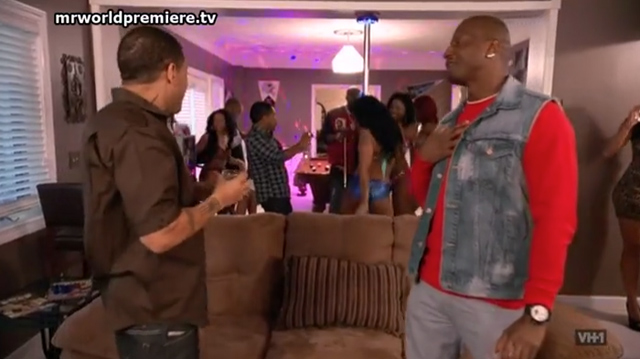 Speaking of strange bedfellows, since Stevie has axed Benzino from his life, it means we're now forced to sit through Benzino attempting to bond with Rasheeda's husband Kirk.
But Kirk's life is depressing as hell so even though Benzino has the drank pouring and the strippers twirlin' on the pole, it still feels like it's the end of the world as we know it.
Benzino, just do Kirk and us all a favor and leave the dang cast of LHHATL.
***
Honorable Mention Moments from the Editor

WTF?!?: Momma Dee trying to mack and get her cougar on with the "dog whisperer" guy. Scary.
Really?: Kirk blaming Rasheeda for getting pregnant, as if she did it all by herself — "I pretty much feel like it's spiteful and you did it on purpose." Wait, what?
LOL!: Karlie Redd acting like she's an international superstar — "They brought me to Utah … I'm in Utah for a party. I'm everywhere!" Girl, please.
LMAO!: Scrappy telling Momma Dee she is crazy, and to stay out of his damn business. Or in his words, "You is crazy … leave me the hell alone!" Classic.
SMDH…: DJ Babey Drew (aka DJ Dumbass) sending his "con artist business partner" $50,000 with NO signed contract, simply a verbal agreement. So basically, the $50K he and Traci put up for that shoe store has been flushed down the toilet, and Master Splinter is cutting bonus checks for the Teenage Mutant Ninja Turtles as we speak.
Be the first to receive breaking news alerts and more stories like this by subscribing to our mailing list.