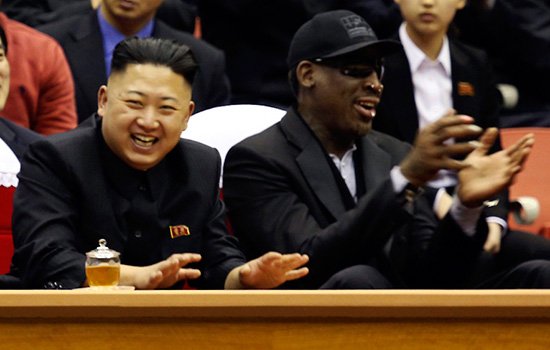 Dennis Rodman wants the ENTIRE WORLD to know that Kim Jong Un is "such a great guy" … so much so that he reportedly spent hours at the bar at a New York City hotel the other day telling that to anyone who would listen, which eventually got him kicked out for being annoying.
According to Page Six:
Dennis Rodman was escorted out of the Time Hotel in Midtown on Sunday after spending hours at the restaurant bar loudly telling anyone who would listen what a great guy the North Korean dictator is.

"He was at the bar at Serafina for three hours," says a spy. "He kept saying what a nice guy Kim is, and how Kim just wants to talk to President Obama about basketball. He was waving around a signed copy of the dictator's huge manifesto, telling everyone they should read it."

Added the witness, "Dennis was making a total jerk of himself. He wouldn't leave, and he wouldn't let anyone talk to him about shutting up, or what an oppressive country North Korea is. Eventually he had to leave the bar because the bartender was starting to get [bleep]ed-off."
Rodman recently came off a bizarre trip from visiting North Korean dictator Kim Jong Un with members of the Harlem Globetrotters for an HBO series, and he has definitely been enjoying the media attention he's been receiving because of it.
"He's a great guy," Rodman has told reporters of 'Lil Kim' — who heads a country where people are said to eat their own children because of the rampant famine across the impoverished nation.
"I love him. He's awesome," Rodman said about the guy who just idly sits by and stuffs his fat face while children in his country look like this.
After the backlash and criticism from the media for being a bit too chummy with one of the most hated men on the planet, Rodman still refused to backtrack from his assessment of Kim Jong Un.
"You know, he's a good guy to me. Guess what? He's my friend. I don't condone what he does … [but] as a person to person – he's my friend," he told ABC.
Well, Mr. Rodman, you should tell your "friend" to get off his fat ass and do something good for his own country for a change.
Be the first to receive breaking news alerts and more stories like this by subscribing to our mailing list.