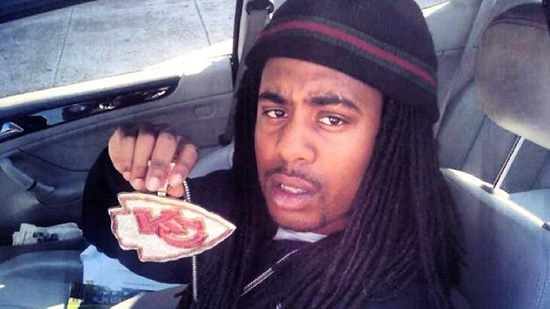 In what sounds like something straight out of an action movie, three people were killed Friday morning (Feb 21) in Las Vegas after a shootout between a Range Rover SUV and a Maserati resulted in a fiery crash that shut down about a block and a half of the world-famous Vegas strip.
"First time in Vegas, and then, like, the whole thing, what you know from movies only — I was shocked," said Christine Gerstenberger, who was visiting from Germany.
"There was a loud bang, and I hear two other booms. I looked out my window at Caesars Palace … and could see the fireball," John Lamb, who was inside nearby hotel Caesars Palace, told KLAS.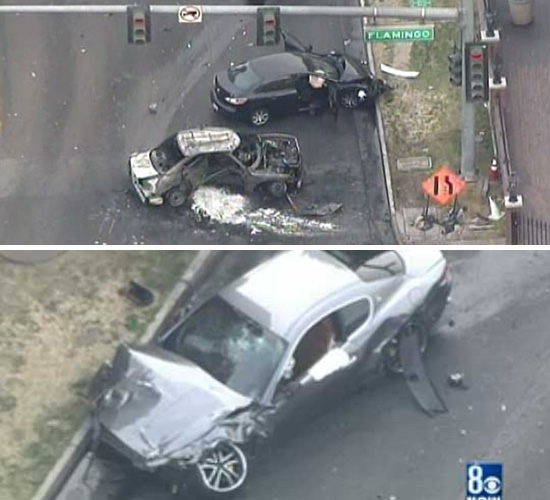 Police are still trying to piece together what exactly happened, and who was behind the tragic incident that occurred in the middle of the busiest intersection on the entire strip that left three people dead, but here's the gist of it, according to the Associated Press:
Clark County Sheriff Doug Gillespie told reporters the shooting was sparked by an argument in the valet area of the nearby Aria hotel-casino, and spilled over to one of the busiest intersections on the Las Vegas Strip. As bullets flew from the Range Rover, the Maserati ran a red light and smashed into a taxi that exploded into flames.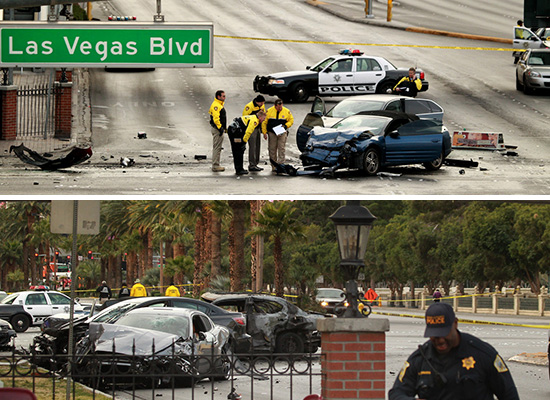 Three more cars and a utility truck also collided at an intersection near Bellagio, Caesars Palace and Bally's hotels as the Range Rover sped off into the pre-dawn darkness, just before 4:30 a.m.
The taxi driver and his female passenger were killed instantly, and at least six other people were injured, including a passenger in the Maserati, who is said to be cooperating with police. They were all treated for minor injuries.
The third victim who died in the shooting incident was an aspiring rapper and alleged pimp known as "Kenny Clutch" — the driver of the Maserati — who succumbed to his injuries at a nearby hospital. Born Kenneth Cherry Jr., Clutch was from Oakland, California and was living in Las Vegas, according to his Facebook page.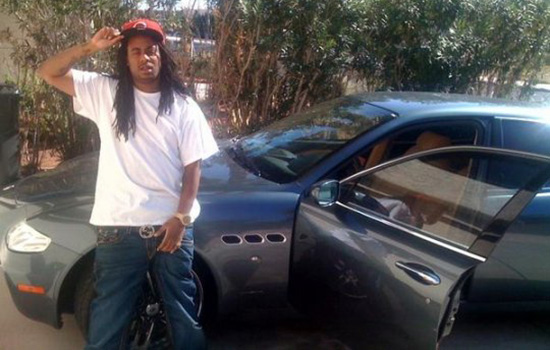 "Out of everyone I know in the rapping industry there is no way I would have ever, ever expected to find that he was shot on the Las Vegas strip in such an aggressive manner," said his attorney Vicki Greco, who said Cherry had two kids and disputed claims that he was a pimp and had a criminal background.
"He didn't have a (criminal) record or a history. He was just a good kid trying to make it and be a good father," she said.
Cherry's aunt told the Oakland Tribune that she wasn't aware of her nephew's history as a rapper, but called him a kind soul. "Right now my heart is breaking," said Pat Sims. "This has really been a tragedy. Kenny was just a delightful kid.
"I can tell you this … the world has lost a good man," she added. "I'm not saying he didn't have his faults, but he was very kind, especially to older people. Whatever happened in Vegas, I don't know about, but he was a very kind soul."
Sims said Cherry was close with his 106-year-old grandmother. "I haven't been able to tell her," she said.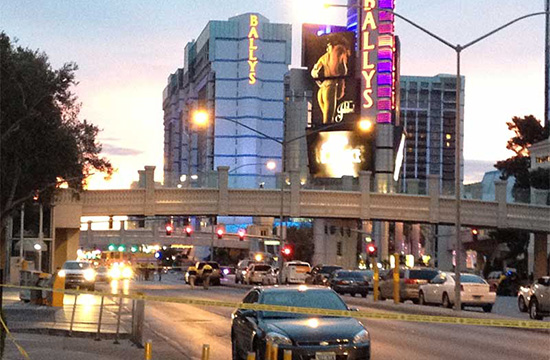 Authorities are still looking for the Range Rover believed to have sparked the tragic incident, which ironically happened about a block away from where Tupac was killed in a drive-by shooting in 1996 under similar circumstances.
Be the first to receive breaking news alerts and more stories like this by subscribing to our mailing list.