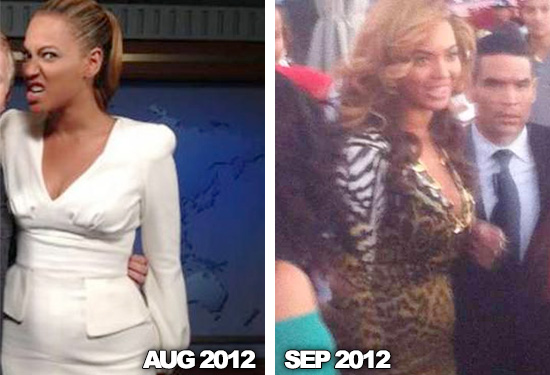 Baby, we swear it's deja vu.
Beyonce fans are keeping a close eye on their Queen Bey and some fans have begun to wonder openly if the "Love On Top" singer is expecting a new baby.
Using candid photos from two recent events as evidence, fans expressed concern that Beyonce's "break" from music might be a bit more extended than they'd hoped.
ATRL was abuzz with discussion over the R&B star's noticeable "pudge"
TheAqua asked:
Baby bump or cycle bloating?
Comedor said:
I'm worried now. Where's my new alberm?
Rainbows said:
She looks fabulous, but it does look like she has a baby bump.
EUR Web reported earlier this month on rumors floating around that Bey and Jay were ready for number 2 whenever, wherever, so to speak. The "source," who spoke to the gossip rags (so take this with a grain of salt), said:
"Beyonce definitely wants more kids. Jay wants a boy next so they can have one of each," a source told Us Weekly magazine. "They're ready for a baby whenever it happens."
So either Jay-Z and Beyonce hit the jackpot early, or Beyonce just has a little more to do before she rids herself completely of baby weight left over from carrying Blue Ivy. Either way, we'll find out the truth in a few months.
Be the first to receive breaking news alerts and more stories like this by subscribing to our mailing list.