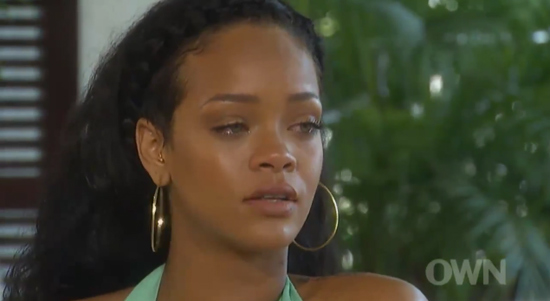 That Rihanna reign isn't the only thing that won't let up. Apparently, neither will Rihanna's love for Chris Brown.
In an exclusive hour-long interview with Oprah Winfrey on the OWN Network, Rihanna left no stone unturned when it came to her personal life.
Oprah, being the pro that she is, got Rihanna to spill all of the details and more. But the portion of the interview in which Oprah asked questions about Chris Brown proved to be the most revealing by far.
When asked if Chris Brown was a true love her, Rihanna unflinchingly responded, "YES!"
She then went on to say that she will always love Chris Brown and that the two of them are very, very, very close friends.
How does Karreuche Tran sleep at night with Rihanna feeling this intensely about her man? This poor girl seems like she's being set up to be the world's biggest rebound chick ever.
Rihanna's love for Chris Brown extended so deeply that she told Oprah that when the domestic violence incident went down, her first concern was that people would attack Chris. Rihanna worried that he would be only be seen as a "monster" and that people wouldn't look at the "source." It's unclear what she means by the source. Is she blaming herself or blaming Chris' past, which included an abusive step father, for his lashing out that night?
She acknowledges that many people, including her fans, might not agree with her decision to forgive Chris so wholeheartedly. But it's one that she feels comfortable with and won't be changing anytime soon. She describes the two as being very close. So, folks, deal with it.
Meanwhile, poor Drake is left out in the damn cold all by himself. He popped off at the club with Chris about RiRi for no good reason.
This is what it looks like, when thugs cry:
All jokes aside, one thing this interview proves is that the Chris Brown and Rihanna story won't end up resembling the Ike and Tina Turner story. After Tina split from Ike, she never once bothered to look back.
In fact, when Ike died in 2007, this was Team Tina's response:
"Tina hasn't had any contact with Ike for more than 35 years. No further comment will be made."
Rihanna, however, just can't let go of what she had with Chris. These two are destined to be reunited at some point in the future.
Maybe they'll let Karreuche be the flower girl at their wedding or something.
Watch Rihanna's interview on "Oprah's Next Chapter" in its entirety below:
[Video Props: Yardie]
Be the first to receive breaking news alerts and more stories like this by subscribing to our mailing list.