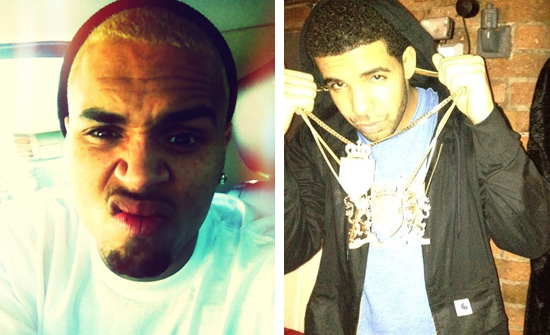 The consequences of the great light-skinned fight in that New York City club just keep on coming.
Chris Brown and Drake are officially being sued for $16 million by the owners of the club name "Greenhouse" on accusations that their 'fight' not only ruined their reputation, but also ruined a potential $4 million to expand the brand across the country.
You'll recall that back in June, Chris Brown and Drake were allegedly involved in a bottle-throwing melee that went down at W.i.P. in NYC after Drake supposedly mocked Chris about hooking up with his ex, Rihanna.
Several clubgoers and innocent bystanders were seriously injured, including NBA star Tony Parker and Chris' own bodyguard.
Many of these victims sued the club, claiming that the owners were liable for failing to prevent the conflict from becoming violent.
But Team Breezy ain't got time for dat.
Chris Brown's legal team was quick to dismiss the lawsuit as frivolous, according to reports from TMZ.
TMZ spoke with a rep for Brown … who spoke with Mark Geragos (Chris Brown's lawyer) … who says, "It's a frivolous lawsuit."

Side note — we've spoken with people directly involved with the situation who tell us neither Drake nor Chris laid a hand on each other during the melee.
This could get really ugly if they actually have to go to court and spill all the details out in public. And it'll hurt their bank accounts even more if they have to shell out cash to settle.
Meanwhile, Rihanna is chillin' with Oprah while these fools are caught out there over a squabble they had cause their feelings and their egos got away from them. Somebody needs a hug.
Next time Drake and Chris wanna brawl, they need to meet up behind a KFC, duke it out, record it and upload it to World Star Hip Hop, and call it a damn day.
Be the first to receive breaking news alerts and more stories like this by subscribing to our mailing list.